Conquering Difficulties When Going Vegan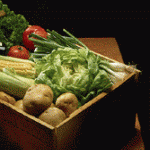 I went vegetarian in 1996. Shortly after that, I went vegan. I've lived a cruelty-free lifestyle for almost 14 years, and I now find it to be easy and very fulfilling. But it wasn't always so effortless for me. The two biggest difficulties I experienced when making the switch were having cravings for the animal-derived products that I wanted to give up and dealing with friends and family members about why I was dropping those products. I thought that I would tell you a little bit about my journey to adopting a vegan lifestyle so that you won't feel alone if you should come upon similar challenges.
My boyfriend at the time (who is now my husband) was vegetarian and taught me that animals have feelings—just like you or I do. I had a strong desire to go vegetarian, yet I still had meat cravings, which can happen when you suddenly give up something that your body is used to. My solution was to keep reading literature about the rampant abuse of animals on factory farms and in slaughterhouses. I kept pamphlets in my desk at work and on my kitchen counter at home. It was just the inspiration I needed to stay firm in my belief that eating animals was wrong. Today, there are many videos on the cruelties of the meat industry-videos that are much more shocking than the literature I started out with. If you get sidetracked in your quest, just turn on your computer and go to PETA.org. That should cure any cravings you might have!
When I decided that it was time to go vegan, cheese was the hardest thing for me to give up because it was a major ingredient in just about everything I ate. In fact, I learned that cheese is the number one item people have trouble giving up when going vegan. If cheese is your weakness, you are not alone. We have the dairy industry to thank for that—it has established massive campaigns pushing cheese products. Then I learned that on dairy factory farms, male calves are taken away from their mothers at birth and chained in veal crates, and I simply couldn't justify eating cheese.
Knowing that I was helping to put an end to animal abuse by not eating animals or animal-derived products was the driving force in keeping me on the vegan track.
Family, friends, and coworkers can be a huge challenge. They might make fun of you for your food choices, get perturbed when you don't eat the animal-derived products that they prepared for you, or shun you because your vegan lifestyle makes them uncomfortable about eating animals. It's one thing to stick to your beliefs when you are alone or with your vegan friends—it's quite another thing to hold to your convictions at Thanksgiving dinner at your parents' house with all the relatives in attendance. I really don't know which was the hardest for me: giving up eating animal-derived products or having to explain why I was doing so to all my nonvegan friends and relatives!
I got through those early dinners by reminding myself that every day is torture for animals raised for food—but this was just one day in my life that I might encounter ridicule and anger, and I can handle one day of verbal bullying to take a stand against cruelty to animals.
I am sure that you are also looking for more tangible answers to help you overcome your own difficulties in going vegan. When giving up meat, go for faux. There is an abundance of delicious mock meats on the market today, as well as great-tasting faux dairy products. If you miss eggs, just scramble up some tofu. Nondairy desserts are plentiful in grocery stores and bakeries all across the country. And if you need some vegan cooking and baking advice, bookstores are now filled with vegetarian and vegan cookbooks.
Going vegan isn't always easy for everyone. But with handy literature to keep you educated and informed, the determination to stand up to your friends and family when it comes to your belief that animal abuse is wrong, and a kitchen full of wonderful vegan foods, your journey to a compassionate lifestyle should be effortless, fun, and rewarding.