Beating Burnout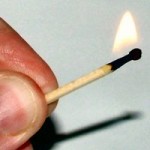 You might never have expected to hear this from PETA, but sometimes the best thing you can do for animals is to pull back and stop what you're doing. I'm talking about burnout.
Hundreds of important issues and millions of animals' lives might be at stake, but you won't be doing animals much good if you push yourself to the point of frustration, defeat, or even depression. So if you've been pumping out daily letters to editors or leafleting at the supermarket five days a week and feel as though you're running in place, the answer is simple: Stop! It's time for a change.
Not every tactic is right for every person—and sacrificing your psychological well-being in order to help animals won't do you or them much good! There are many ways to help get the job done for animals without being driven to the brink of burnout. You will feel better, and you'll also be a more effective force for helping the animals you care about so deeply.
If vegetarian eating is your thing, you can share any of a number of videos about the topic on Facebook or Twitter. Or—because a picture is worth a thousand words—how about posting photos of your very best vegan creations? Get people's mouths watering, and they'll be hooked! Or, for you backyard chefs out there, invite some friends over for a vegan barbecue, and I guarantee they'll be awed.
Love to tweet but hate the circus? Perfect! Tweet with a link to PETA's Ringling Bros. and Barnum & Bailey Circus undercover investigative video and urge your followers to support only animal-free circuses. (Be sure to mention @RinglingTweets in your tweet.)
Our victories are important for animals, of course, but they're important for us, too, because we all need to see progress as a result of our labors—and PETA knows that as well as anyone. Thanks to the help of supporters such as you, we can boast of more than 60 victories for animals so far in 2012 alone. They range from getting the U.S. Department of Transportation to promote non-animal skin corrosion tests to halting plans by the Pennsylvania Beef Council to kill a calf in a vaccine demonstration to persuading the folks at the Coke Zero NASCAR race in Daytona to add veggie dogs to the menu.
Remember: Humans are animals, too, and that means that we all have our needs, strengths, weaknesses, and preferences. The trick is to allow for your individual needs and play to your strengths. You'll be happier, and so will the animals who benefit from your wonderful work!