Johnny Appleseed: Pioneer, Vegetarian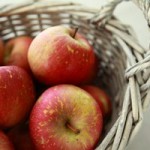 Most of us have heard stories about the travels of Johnny Appleseed on foot across the Midwestern prairie, during which he'd stop to plant apple orchards or donate seeds to people in need. Did you know that he was also a devoted vegetarian?
Johnny's compassion for animals even prompted him to use what little cash he had accumulated to buy horses in danger and find them a safe haven. That's why PETA has asked the organizers of the 38th Annual Johnny Appleseed Festival in Fort Wayne, Indiana, to make the event a true tribute to Johnny by serving only vegetarian food, such as veggie dogs and burgers, vegan chili, meat-free pizza, and, of course, fresh-baked apple pie.
Johnny Appleseed isn't the only historical figure who had strong convictions about justice for animals. Other prominent vegetarians from the past include Leonardo da Vinci, Albert Einstein, Mahatma Gandhi, Pythagoras, Albert Schweitzer, George Bernard Shaw, and Leo Tolstoy, who deduced in a very matter-of-fact manner, "A human can be healthy without killing animals for food. Therefore, if he eats meat, he participates in taking animal life merely for the sake of his appetite. And to act so is immoral."
More recently, César Chávez, who struggled against all odds to organize farm workers, was also a vegetarian. Chávez said, "I became a vegetarian after realizing that animals feel afraid, cold, hungry, and unhappy like we do. … It was my dog … who led me to question the right of humans to eat other sentient beings."
The list of contemporary celebrities who've gone vegan or vegetarian seems to grow every year and includes such notables as Pamela Anderson, Bob Barker, Ellen DeGeneres, Woody Harrelson, Chrissie Hynde, Paul McCartney, Natalie Portman, and Russell Simmons.
But you don't have to have helped forge history or sold a million records to enjoy better health, help the environment, and save animals' lives by going vegan. Just order a free vegan/vegetarian starter kit to make the transition as easy as apple pie.