Watermelon: Good to the Bone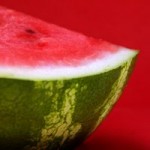 Concerned about osteoporosis? You may want to dump the dairy in favor of watermelons, tomatoes, and red grapefruits.
Recent research suggests that lycopene, the bright-red carotenoid that gives those fruits their luscious hue, may prevent bone loss. A study done on 23 healthy postmenopausal women between ages 50 and 60 found that a lycopene-restricted diet resulted in greater bone resorption and the oxidative stress associated with osteoporosis.
Those who fall for dairy-industry propaganda about the supposed bone-building benefits of the calcium in cow's milk could be in for a shock. Research has shown that calcium intake is just one of many factors and that simply increasing calcium intake is not enough to prevent osteoporosis. Reducing calcium losses is another important step since the loss of minerals from bones likely results from a mixture of genetic, dietary, and lifestyle factors.
Foods high in animal protein, such as dairy products, produce acidic byproducts when they are broken down, so the body neutralizes the acid with calcium before it is eliminated. This process leaches calcium from the body—including from the bones—resulting in a loss that cancels out the dietary intake of calcium from animal products.
In countries where dairy products are not generally consumed, there is less osteoporosis than in the United States, where dairy consumption is among the highest in the world. The Harvard Nurses' Health Study followed 78,000 women for 12 years and found that milk did not protect them against bone fractures. In fact, those who drank three glasses of milk per day had more fractures than those who rarely drank milk.
So, returning to our original point, if you're concerned about osteoporosis, here are some things that you can do to reduce your risk, in addition to making sure you're getting plenty of lycopene:
• Eliminate milk, meat, eggs, and other animal proteins from your diet.
• Look to healthy plant sources for your calcium.
• Reduce sodium and caffeine intake and stop smoking—these things all cause calcium loss.
• Get some sun and exercise: Sun exposure generates vitamin D, which is essential for calcium absorption (you can take a supplement if you want to avoid the sun), while exercise helps you retain calcium.
As a bonus, besides protecting your bones, a diet free of milk, meat, and eggs spares animals from enduring mutilations, severe crowding, filth, beatings, and a violent death—all common on factory farms and in slaughterhouses.