First Vegan on Mars!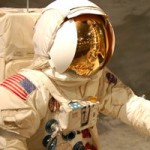 If all goes as planned, when astronauts take their first steps on the surface of Mars, it'll be a giant leap for vegan kind. That's because NASA is hard at work on developing a menu for the first manned mission to Mars—and since the meals need to be as nutrient-dense as possible and have a long shelf life, it's only natural that the menu will be exclusively vegan. After all, vegan food is packed with vitamins and fiber but not any of the artery-clogging animal fat and cholesterol found in meat, eggs, and dairy products. Unlike dairy products, freeze-dried vegan meals do not have to be refrigerated, so they're ideal for space travel.
So far, scientists have created 100 recipes that will be freeze-dried for the journey, including sushi and vegan pizza. The astronauts can even supplement their pre-prepared meals with fresh fruits and vegetables that they'll grow in an onboard greenhouse—because as we all know, while vegan convenience foods are great, fresh vegan dishes are even better.
Whereas the astronauts who went to the moon relied on Tang and freeze-dried ice cream, vegan meals are the food of the future, and for good reason: Vegans tend to be slimmer and less prone to heart disease, strokes, cancer, and even cataracts than meat-eaters are, so choosing vegan meals is a great way to "live long and prosper" for many years to come.
What's more, since the meat industry wreaks havoc on the environment, going vegan is one of the best ways to conserve water and cut down on pollution, including greenhouse-gas emissions—which can help ensure that when astronauts leave the Red Planet, they'll return to one that's still "green."
Of course, vegan meals are also kinder to animals, so serving up vegan dishes onboard the space shuttle would continue a trend for NASA, which has begun to move in an animal-friendly direction over the years. As you may recall, in late 2010, NASA canceled plans to subject squirrel monkeys to harmful doses of radiation after a vigorous campaign that included scores of protests and more than 100,000 letters, phone calls, and e-mails from PETA supporters.
Perhaps the best news is that we don't have to man a mission to Mars to experience all the great benefits of vegan meals! We can all give them a try right here on Earth. You might even want to start with your very own vegan pizza or sushi—and if anyone asks, just say, "I'm eating like an astronaut!"