Fur Falls Further out of Fashion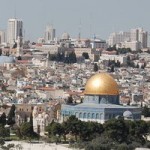 In the latest blow to the fur industry, Israel's Knesset is considering a near-total ban on the sale of fur items, excluding only those for religious or scientific purposes. Many compassionate countries—including Austria, Croatia, and the U.K.—have already banned fur farms, but Israel's proposed law would take matters a step further, making it the first country to ban not just the production of fur, but nearly all fur sales as well.
Although the proposed law does not cover all uses of fur, its passage would make Israel the first country to ban the sale of this cruel product, an achievement almost as impressive as the complete bans of fur in cities such as Dublin and Fingal in Ireland and West Hollywood in California.
It's no secret that animals suffer horribly in the fur industry.  Animals on fur farms spend their lives in tiny cramped cages, only to be killed by the cheapest and cruelest methods possible, such as bludgeoning, strangling, and electrocution. Some of the victims of the fur trade are still conscious while the fur is being peeled off their bodies, including dogs and cats in China. Animals caught in the wild for their fur fare no better. They are often snared in steel-jaw traps that slam shut on an animal's limb. Many will chew or twist off their trapped limbs to escape, a struggle that can last for hours before the animal succumbs to exhaustion, frostbite, shock, or death.
While the cruelty alone is enough to make fur a fashion faux pas, Israel's proposed move makes even more sense as more consumers realize that synthetic fabrics are warmer than the real thing and more environmentally friendly to boot.
This isn't the first time that Israel has shown that the animal rights movement matters in the Jewish community. In 2010, following a PETA undercover investigation inside Uruguay's largest slaughterhouse, the chief rabbi of Israel said that by 2011, the country would no longer certify beef as kosher if it came from slaughterhouses that use the cruel method of "shackle and hoist."
PETA is keeping a vigilant watch to make sure that the rabbi's directive is enforced. Force-feeding of ducks and geese for foie gras is also illegal in Israel.
As the text of the new bill affirms, a ban on the sale of fur within Israel is in accordance with the values of human compassion and Judaism as well as in keeping with the country's Animal Protection Law.
No matter where you live, you can support the global campaign to end the cruel fur trade by pledging never to wear someone else's skin!