My Week in Rehab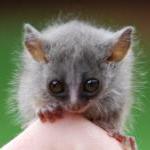 That's Wheezy, a 3-week-old orphaned bush baby who had the bad fortune of being dragged home by a house cat. He got lucky when the homeowners called SanWild to the rescue. Wheezy grew bigger and livelier and more inquisitive by the day. In his youthful exuberance, he was determined and anxious to explore the world, and he will be released into the wild as soon as he is able to fend for himself. He flourished in rehab, and so did I. A week-long course in wildlife rehabilitation, that is, at the sanctuary in South Africa.
This exceptional course is taught by Karen Trendler,  who has rescued African wildlife of all stripes and sizes, from penguins and pigeons to eagles, elephants, warthogs, rhinos, giraffes, and lions—the entire Ark, really. Whoever needs help! The point of this work is not to interfere as nature takes its course with animals in the bush. Ninety-nine percent of those in rehab are there because of human impact of some sort: electrocution by wires, collisions with fences, poachers, cars, or poison. Some are rescues from the ghastly breeding industry that supplies animals for trophy hunters from abroad. And not every call is a happy one; there are many who are so badly injured that there is no hope for a successful recovery. Some are DOA, and others must be euthanized on the spot. But for those who have a fighting chance to live free again, the rehab experts nurse them back into the wild. And Karen taught us the basics of how to do that.
My fellow students spanned an impressive range of expertise and experience; all were enthusiastically committed to saving animals. So there was plenty of camaraderie and just plain fun. There was time for savoring the experience and for storytelling sessions around the dinner table and campfire.
In addition to covering the fundamentals of animal rescue and rehabilitation, Karen led our lively class in far-ranging discussions on ethics, animal rights, noteworthy victories and failures, and what goes on behind the scenes in the African hunting industry and elephant-back safari training camps. Her personal experiences were often heart-wrenching—but also wonderfully redemptive. For example, she helped save 39,000 birds who were drenched in oil from a tanker spill off the southern tip of Africa, in a project that took 18 weeks to complete. Now that's saving a lot of lives! But while wildlife conservation strives to save populations of animals, rehabilitation is about individuals. In all that rehab people do, the well-being of each individual under their care is what counts. Each animal at SanWild has a name, personal history, medical chart, and recovery plan for return to the wild.
Beyond the rehab center, SanWild encompasses a sanctuary of more than 17,000 acres, which are home to elephants, giraffes, hippos, zebras, rhinos, impalas, and many others. It makes a great eco-tourism destination, and the facilities are superb. Compared to African national parks and reserves, the difference is that most of the animals have a very sad story on how they came to live in the sanctuary. The hippos wallowing in their pond were rescued from circuses in France; one of the warthogs was found as a baby snuggling up against his mother's intestines (all that the poachers left of her); Quakki the zebra was orphaned when her mother was trampled to death while being trucked from a breeding farm to a "hunting" kill site. The lions and African wild dogs were also rescued from breeders and were destined for canned hunts. But these stories all have happy endings! All are living free now.
Great people, entertaining conversations, world-class instruction, being surrounded by African wildlife in an idyllic setting—what could be more perfect? Part of me could have stayed in rehab forever. Spending that week with Wheezy was as therapeutic for me as it was for him. Good luck out there, my friend.