Mornings in the Menagerie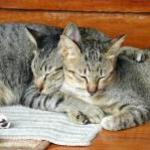 Mornings are my favorite part of the day. My big old dog Zoey wakes me up like clockwork at 5 a.m. each morning with kisses to tell me it's time for her to go out. The three young kitties sit patiently by the bed, waiting to follow me in line—like I am the Pied Piper—upstairs to the cat room/office for their dry-food breakfast and their morning nap. Then it's back downstairs to feed the doggies and the old kitties, who get canned food out of respect for their old age.
While everyone is eating, I clean the litter boxes, refill the water bowls, wash up, and grab a cup of coffee and the morning newspaper to relax and plan the day. Then it's back upstairs to wake up the sleeping young kitties from their nap. Sometimes they race downstairs, sometimes they saunter, but they always end up downstairs at the old-kitty food bowls to clean up any canned-food breakfast leftovers.
There's something really special about having routines that revolve around our animal companions. These routines connect us to planet Earth and keep us humble. They remind us that we are caretakers of this planet and all the critters who share this world.
Do you have any special routines that revolve around your animal companions?