Louisville's Edgy Veggie Bardstown Scene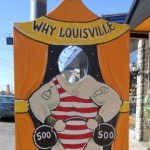 There's much more to Louisville, Kentucky, than horseracing and bourbon.
I talked about NuLu in a piece earlier this year, but I hope to return to check out some of the area's new attractions. Among them is a new Consuming Cultures exhibit at Proof on Main, which features Johnston Foster's birds made of scavenged materials. Dana Ellyn, who has tackled heavy themes such as humanity and inhumanity with wit, sass, and style, has a summer show at Garner Narrative. Then there's The Parklands, a private-public project planned to be one of America's largest urban parks, with nearly 4,000 acres and a 27-mile creek-side recreation corridor between Shelbyville and Bardstown roads. Louisville also offers free trolleys by day and for city art hops.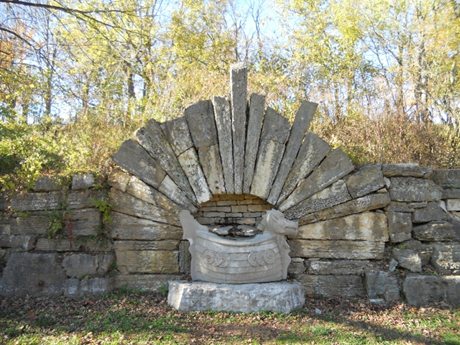 Speaking of Bardstown Road, it's one of the most vibrant corridors you can enjoy on foot. The many highlights include WHY,  a shop of exclusively Louisville stuff, fun vintage shops, Heine Brothers Coffee (a stop for coffee and vegan treats), Carmichael's Bookstore,  and the Bardstown Road Farmers' Market.
There's also Roots, a casual-meets-fine-dining restaurant that's a vegan Mecca and a magnet for food lovers of all persuasions. Here's the philosophy of restaurateur Huong "CoCo" Tran, who also opened Heart & Soy (fast vegetarian food inspired by Asian street food) next door and Zen Garden, an Asian tea house with a variety of vegan dishes on nearby Frankfort Avenue: "While providing delicious meals to our customers we remain mindful of our impact on the environment, our community and the health of our patrons. We act with compassion for our fellow creatures and for our community by choosing vegetarian ingredients."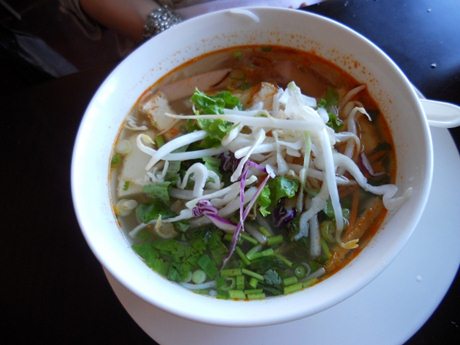 The only item I saw on the menu that wasn't plant-based was egg noodles. The many tapas-style dishes make arriving at a decision difficult, but be consoled by the fact that each one I sampled during my visits was literally sensational, as were the teas, such as the Blanc de Cassis with white peony and currants. Among the more popular dishes are the Hue, which blends spicy noodles, portobello mushrooms and tofu, and the green papaya, which enchants diners with apple and chili vinaigrette. The restaurant's seasonal root vegetables shimmer with a lemon-rosemary olive oil, its jicama spring rolls burst with flavor and texture, and the crispy potato nest tempts you with a toasted sesame glaze. Diners even have a choice of conventional tables or sunken Japanese-style tables.
Roots/Heart & Soy houses a tofu machine in a glass-windowed room, where you can watch tofu and soy milk being made. The tofu and soy milk products and vegan desserts are available from to-go cases. Tran sets wonderful tables and a fine example for all culinary entrepreneurs, donating thousands of dollars a year to nonprofits that help people and animals.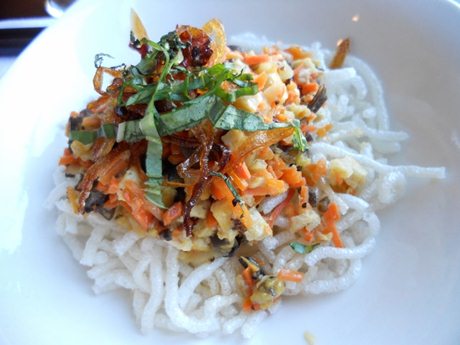 To satisfy your sweet tooth on the Bardstown corridor, Jamie's Cupcakes on Baxter Avenue beckons with several bestselling vegan products, including vegan peanut butter cups with dark chocolate cake, plant-based ganache, and peanut butter frosting.
Craving Sunday brunch? Check out Ramsi's Café on the World, which serves ginger plantain French toast, chocolate chip pancakes, scrambled tofu burritos, vegan queso, soy sausage, and vegetable paella.
When you're sufficiently fueled up, bike (rental sources include Bike Couriers Bike Shop) or walk just a bit northeast to Cherokee Park, a gem designed in 1894 by New York Central Park designer Frederick Law Olmsted to help shape and shade the growing city. Its 400 acres, ensconced in a big scenic loop, include multilevel miles of trails through lush greenery, the Beargrass Creek Watershed, streams, rock formations, handsome stone walls, a beautiful fountain statue of a boy with turtles, and a bird sanctuary. I passed a bagpipe player and two members of the Plein Air Painters of Kentucky capturing the haven's beauty on canvas.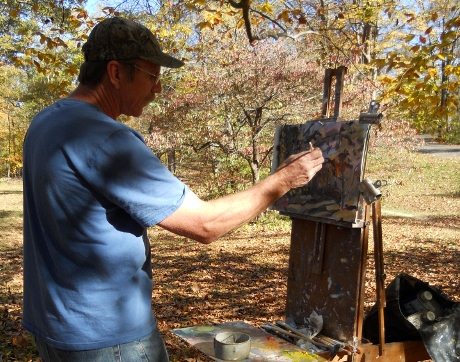 If you can't make it to Louisville until fall, time your visit to coincide with its fantastic "community unity" cultural festival, Mighty Kindness Harvest Hootenanny. Scheduled for October 14 at Louisville Nature Center, the Hootenanny will present local bands, many of which invite all comers to play along, free classes, socially and ecologically responsible vendors, and local farmers selling delicious food. For eateries using locally sourced ingredients, check out the Louisville Vegetarian Club's site.
Been there? Live there? Feel free to share your favorite Louisville spots below!
All images ©Robin Tierney.