What's in a Word?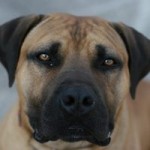 Your words are the single most powerful tool you will ever possess to effect the change you want to see in this world.
"Freedom," "hope," "compassion," and "love" are just some of the great words of our language. Each has inspired global transformation and affected millions of human lives. Today, there is another simple and powerful word that can improve the lives of our animal friends: "guardian."
A few months ago, I interviewed Dr. Elliot Katz, founder and president emeritus of In Defense of Animals. He champions the word "guardian." During our interview, he emphasized that if we ever want to see an end to the neglect, suffering, and deaths of millions of companion animals in animal shelters and on the streets, then we have to stop thinking of ourselves as merely their owners. Instead, we can envision ourselves in a higher role—that of a guardian.
"Guardian: One who guards, watches over, and protects."
I've loved animals all my life and consider myself an advocate for them. I've leafleted, protested, volunteered, written government officials and corporations in their behalf, rescued them, become a vegan, and walked shelter dogs until my feet were blistered. But sadly and embarrassingly, I realized recently that I still thought of myself as an owner.
My relationship with my companion animals is very precious to me. But as an "owner," my animals, by definition, were my property, my possessions, and my things. It also meant that a barrier existed between us. No matter how much I loved them, that word, and my connection to it, would always limit my relationship with them.
Animals feel our energy. They sense our emotions, and they are experts in human body language—so it's no surprise that as I began to shift my identity from that of an owner to that of a guardian that their behavior toward me also began to change.
"The animals of the world exist for their own reasons. They were not made for humans anymore than black people were made for white, or women created for men."—Alice Walker
As a guardian, my bond with the animals in my life has deepened. Every day, I acquire a greater understanding of their individuality, and our relationship grows stronger because of it. As an animal lover, I find this connection to be priceless.
Our society finally seems ready to embrace animals with greater compassion, kindness, and respect. Our words can expedite this shift, and they cost nothing, require little effort, and spread like wildfire. If today you assume the identity of a guardian, then tomorrow your family members might do the same. Next week, it could be your neighbor who is using the term. In time, the concept of a "guardian" can spread through your community and even the country and eventually become an entrenched part of our identities.
Whatever you do to help animals, whether it's leafleting, donating, rescuing them, or anything else, thank you. Please continue to fight the good fight! Remember also that your efforts can become even more effective if you embrace the use of one word: "guardian."
Carlyn Montes De Oca is an animal activist and a winner of PETA Prime's 2011 Sexiest Vegetarian Over 50 competition.