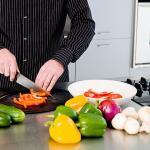 Here at PETA, we meet lots of people who need help getting started on the path to kind cuisine. While any seasoned vegan will tell you that there are plenty of delicious, fresh, and creative vegan meals out there, we're here to help with step one: getting the basics down.
Next time you're mulling over recipes, writing up a shopping list, …
Continue reading "5 Staples for Beginning Vegans"