Our New Relationships With Dogs and Cats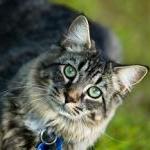 I always smile inside when a client tells me, "You know, back when I was growing up, we had dogs, but they stayed outside. My parents wouldn't believe that my dog now sleeps on the bed and that I'm bringing her to a specialist!" These types of sentiments are commonplace at my office and cause me to reflect on how our relationships with animals have changed over the years. Specifically, is this relationship mutually beneficial, or is someone getting the short end of the bone?
Since the 1960s, when I grew up, a lot has changed, which impacts our relationships with animals. Check out the following differences:
We travel far more often. In the good old days, we seldom strayed very far from our hometowns and often resided near our parents and friends.
We spend less time at home—both for job-related and social reasons.
We are living longer than ever before.
We communicate via e-mail and cell phones in lieu of get-togethers with friends and neighbors.
As a result of these changes, we have become increasingly dependent on our animal companions for support. It is often our animals who travel with us from place to place and are our constant companions throughout the years. The burdens that we place on animals are now greater than ever.
How can we do better at living up to our end of the bargain? How can we be better companions ourselves? I suggest some old and new rules be considered, including the following:
Take time to research adoption long before you visit the animal shelter. Adopting an animal companion is often a 10- to 15-year commitment, so don't take it lightly. Most animal shelters will happily help match you with the right animal companion to ensure that he or she will mix well with your lifestyle.
Consider adopting two animals instead of one—dogs and cats are social animals and will benefit greatly from having the option of interacting with a friend, especially while you are away from home.
If you have to leave your animals home alone during the day for extended periods of time, arrange for a friend or professional dog walker to stop by and visit so that they are not "crossing their legs" for endless hours. Think about how many times you "go" every day!
If you have to travel and leave your animals, make arrangements for someone you trust to

care for them

.
Ensure that you have a back-up plan for your animals in case life events change. Many dogs and cats outlive their guardians, so it's important to

be prepared

.
Check out this list of more ideas about how to

do what's best for your companion animals

.
Our society mandates that we master a minimal degree of knowledge via certification or testing in order to operate a vehicle or register a gun. I suggest that a similar screening process be mandated in which information about the husbandry, management, medical care, health problems, and life span of the animal as well as the anticipated costs of guardianship must be read and agreed to prior to any and all animal adoptions.
Animals are stuck in the difficult role of being our primary companions in a world in which humans spend more time alone than ever before. Have we demonstrated an equal ability to be their responsible guardians?