Best of PETA Prime: We Needed Each Other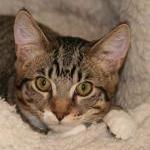 I volunteer in the medical clinic of my local animal shelter, helping to care for sick and injured animals until they are ready to go up for adoption. That's where I met a tabby kitten named Scooter. When Animal Control brought him in, he was about 3 months old and desperately thin. He was covered in so many fleas that he was anemic from blood loss. When I first approached him, he was rigid with fear, hiding under his blanket. I sat with him for a while, and he relaxed a little. When I gently stroked him, he gave me a surprisingly loud purr.
Over the next few weeks, I could see that something was wrong with Scooter. He spent most of his time sitting in one place. When he did move, he crouched close to the ground, and his hind legs were so wobbly that he fell over constantly. The vet ordered x-rays for him, expecting to see evidence of trauma or a fracture, but everything looked normal. As Scooter gained weight and confidence, we saw him running and playing, but he was still very wobbly on his back legs and had difficulty jumping.
Scooter was put up for adoption at about the same time that I started looking for a cat to adopt. I wanted to help a cat who was having a hard time finding a home, so I looked at the older, shy kitties who had been at the animal shelter for a while. I brought my husband in several times to meet cats I liked, but he didn't connect with any of them. On one of these visits, I introduced him to Scooter: "Here's the kitten I was telling you about—the one who can't walk very well." My husband was charmed with Scooter and suggested that we adopt him.
By that time, Scooter could walk fairly well, but couldn't jump more than a foot or so off the floor. We have two dogs who like nothing better than the taste of cat food, so we've always kept the cat kibble on top of a tall cabinet. This clearly wouldn't work for Scooter, so we made plans for a "Scooter feeder box" complete with a cat-sized hole so that he could eat his food and be safe from canine interference.
Scooter came home with us a few days later. Our vet had a theory about his wobbly gait—exposure to the feline distemper virus during his mother's pregnancy could have damaged the part of his brain that controls coordination and balance. This is not a painful or life-shortening condition, but the vet told us that he would probably never run or jump like a normal cat. So we got busy constructing little staircases for him so that he could get up onto the furniture.
Scooter's timidity and physical disability made it easy for potential adopters to overlook him. We thought that we were helping him out by adopting him, but we soon realized how lucky we were to be sharing our lives with this exceptional cat. Scooter is now making up for his rough start in life by blanketing us with feline love. One of his endearing quirks is his need for food and cuddling at the same time. He comes looking for me, leads me to his food dish, and then waits for me to pet him before he lets loose that big purr and starts to eat. (Maybe he's remembering his early days on the street, starving and lonely.) Scooter's coordination has improved over the months. He still falls over when he turns a corner too fast, and he'll never be much of a jumper, but he's very happy exploring our house and our outdoor cat run. We couldn't possibly love him more.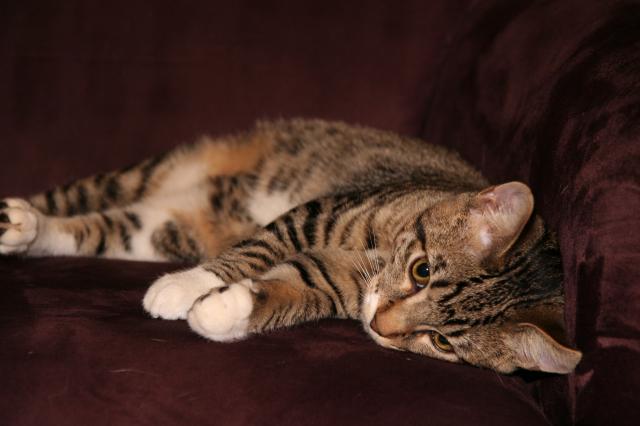 Adopting Scooter got me thinking about special needs animals. So many cats and dogs at animal shelters are ignored because they aren't "perfect." The three-legged dog just bursting with affection. The 10-year-old cat who's shy and sad because she misses her old home. The overly energetic dog who no one had time to train. The diabetic cat and epileptic dog who will need medical care for the rest of their lives. I've spoken to many people over the years who have adopted one of these animals, and they all say the same thing: "He makes us so happy—we can't imagine our lives without him."
June is "Adopt a Shelter Cat" Month. When you visit the cats at your local animal shelter, please consider opening your heart to a special needs animal.
Have any of you ever adopted a special needs animal?