Look Out for Hot Dogs!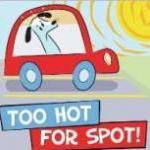 For many of us, it's starting to heat up outside, and we're starting to come across well-intentioned people who leave their canine companions in the car while they pop into the market-thinking that all will be OK for that short amount of time as long as the windows are cracked.
Tragically, dogs can suffer and die when left inside parked cars, even on mildly warm days. On a 78-degree day, the temperature inside a shaded car can reach 90 degrees, while the inside of a car parked in the sun can reach 160 degrees in minutes. Animals can succumb to heatstroke in just 15 minutes.
If you see a dog left alone in a car, take down the car's color, model, make, and license plate number and have the owner paged inside the store, or call local humane authorities or the police. Do whatever is necessary to get the dog out of the car-his or her life may depend on it.
PETA offers leaflets that can be placed on vehicles to remind people never to leave unattended animals inside. You can order some of these leaflets here.