Help Animals in Labs Now—Here's How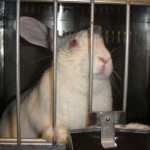 More than 100 million animals are killed in laboratories across the United States each year—and many of them suffer miserably before they die. This is why it is so important for each of us to take action to bring an end to the misguided practice of subjecting animals to cruel and archaic experiments.
The good news is that getting active for animals who are used in experiments is easy—and effective. Working together with members and supporters, PETA has been able to save millions of animals from suffering and dying in laboratories.
So how can you get more involved? Glad you asked! Whether you want to be on the front lines or behind the scenes, there are many ways you can help. Here are some great ideas to keep animals out of laboratories:
Become a Caring Consumer
One of the most effective—and simplest—ways to make a difference is by choosing animal-friendly cosmetics and personal- and household-care products every time you go shopping. Thanks to PETA's Caring Consumer program, the number of companies who have pledged not to test products or ingredients on animals has grown to include hundreds of brands, so you'll have plenty of choices, no matter what you're looking for.
It's incredibly easy to find great cruelty-free products: In addition to looking for PETA's Caring Consumer bunny logo—products proudly displaying this logo are always produced without testing on animals—you can look up products and companies in PETA's online database before you hit the stores.
On the go? Take along PETA's cruelty-free shopping guide or install the "Be Nice to Bunnies" app on your iPhone.
Here's to Your Health—and Animals', Too
It feels great to contribute to health charities that ask for donations to help people with diseases and disabilities, but it's never great when you find out that your donation may help bankroll horrific experiments on animals. Not only are these experiments cruel, they're also poor science.
Instead of ravaging animals' bodies for cures for human diseases, compassionate charities focus their research where the best hope of treatment lies: with humans. They understand that we can improve treatments through up-to-date, non-animal methods, and they fund only non-animal research, leading to real progress in the prevention and treatment of disease. Before you give to a health charity, find out where your money is really going by visiting HumaneSeal.org.
Charity Begins at Home
You can do so much by yourself, but we're even more successful when we work together—so get your friends and family in on the action! PETA's website has tons of information and literature about animal experimentation that you can share with the people in your life and that can even help you answer any questions they might have.  For more ideas about ways to spread the word, take a look at PETA's guide to everyday activism.
This is only the beginning—check back next week to learn about more ways to help animals in laboratories!