How I Decide What Charities to Support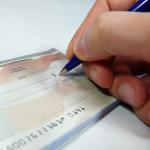 I am sure that I am not the only one who receives phone calls and mailings from charities requesting donations, and I am sure that I am not alone in feeling uneasy about the economy and the future. While many of us cannot afford to give more right now, we can educate ourselves to give smarter. I have three main criteria that I use to sort out the charities that I will support from those I will not.
First off, I will not donate to any organization that might use my money for animal research. The only way I can be sure that they are cruelty-free is if they have been approved by the Council of Humane Giving. I refer organizations to PETA's Caring Consumer Web site and tell them that if they are on the approved list of organizations that do not test on animals, then I will consider donating to them. Otherwise, they should not contact me again until they have received the Humane Charity Seal.
Second, I will not donate to any animal or environmental organization that is pro-hunting, pro-trapping, or pro-fishing. These groups include the African Wildlife Foundation, the Nature Conservancy, Safari Club International, the Sierra Club, the Wilderness Society, and the World Wildlife Fund. I continue to receive membership requests from these groups, and I always send them back with "meat's no treat for those you eat" PETA stickers on the donation form.
Third, I will not donate to any organization that pays its president, CEO, or staffers huge annual salaries. This information can be found on Charity Navigator. Enter the organization's name in the "charity search" box and scroll down until you see the compensation of the top executives. It's quite eye-opening to compare the $37,000 compensation of PETA President Ingrid E. Newkirk to the salaries of the leaders of other groups.
These are my personal criteria. I am sure that every reader has their own preferences based on their own experiences, but I think that PETA should be at the top of everyone's list. PETA puts animal rights on the map and continues to be the most effective at uncovering injustice, putting pressure on animal exploiters, and helping us all to be better, kinder, and more compassionate people.
What's your personal criteria for giving?