San Antonio: Good Golly Tamales!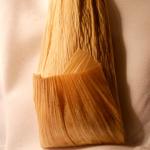 This is the second article on Robin's visit to San Antonio. You can read her first post here.
Artful food abounds in San Antonio, and more and more of it is vegetarian- and vegan-friendly. A pillar of the regional food culture is the tamale, which involves a seasoned filling wrapped in a corn husk spread with masa, a dough made from ground corn soaked in a lime and water solution. The tamale is then steamed or baked.
My favorite was the guava tamale from The Gardener's Feast, which has a booth at the Quarry Farmers & Ranchers Market.  Held on Sundays, this market has several very vegan-friendly vendors and is focused on organic, local, and sustainable food.
Adrian Paredes and Mariana Ibanez launched The Gardener's Feast with tamales made from organic masa and free of preservatives, additives, trans fat, gluten, and lard. Several of the varieties are vegan, and they were the most popular during my visit with Adrian. "That's what gets me here in the mornings—I crave them," says a friendly local walking with her golden retriever. The savory vegan varieties include spinach and caramelized onion, mushroom (with epazote and jalapeños), and nopalito (sweet, tender cactus). The sweet vegan varieties of tamales include "pink" (a raisin/pineapple mix), Mexican brownie (chocolate and corn), and guava.
At the GOOD booth, Ted said they're getting more and more requests for vegan fare. Chef Marissa prepares dishes on site using a portable griddle, and the oatmeal raspberry crisp is wonderful.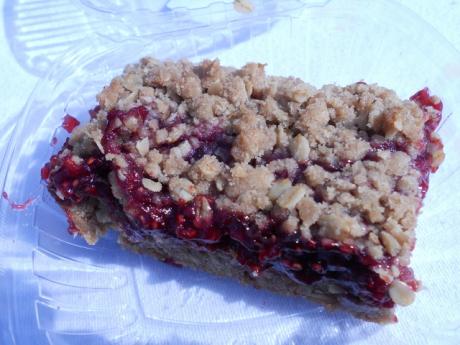 As I sampled several varieties of Cowgirl Granola, food-crafter Heather Hunter explained how she taps the sweetness of the fruit and incorporates superfoods such as organic flaxseed into her vegan goodies. Market vendor Katie's Jar responded to countless requests for vegan dog treats by introducing a healthy alternative to rawhide—sweet-potato chews.
At Green Downtown (whose slogan is "Give peas a chance!"), Jerid Morris and I discussed America's food culture and growing awareness about food issues. Family-owned Green serves mostly vegan and all-vegetarian and -kosher comfort food, such as fennel biscuits, tofu buffalo fingers with vegan artichoke queso, and favorites of two diners I later saw at an art museum: Monk's Bowl (quinoa, beans, kale, and chipotle mayo) and the Raw Deal Wrap (collards wrapped around mushrooms, cranberries, pecan hummus, and a tomato).
Vegeria opened last August with an extensive, ambitious all-vegan menu. Chef Anthony Garza told me about his exit from culinary school after refusing to work with animal-derived foods. He was inspired by his late grandmother's cooking and spirit.
Having arrived at the end of the day, I was limited in my choices, but I enjoyed a spiced carrot soup, a tamale (Vegeria creates new varieties each week, such as pumpkin and chocolate with corn, based on seasonal foods), a raw portobello sandwich, and an awesome blueberry-topped "cheesecake" rimmed with a raw crust of puréed dates, coconut, and pecans. Tex-Mex inspirations include nachos with cashew cheese and lime cilantro rice. Vegeria also serves vegan beer and wine.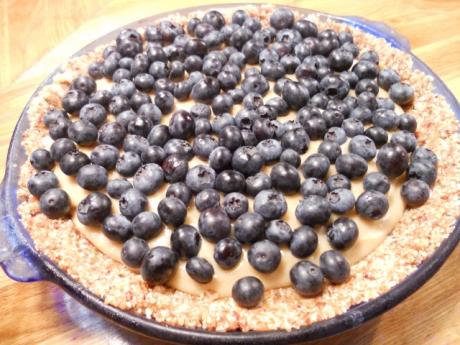 Azuca Nuevo Latino creates fresh interpretations of Cuban fare. The decor itself warrants a visit, with art glass and paintings from local artists. My meal was light and immensely satisfying: a crisp green salad followed by a long boat of seasoned lima beans, microgreens, sautéed baby spinach, fire-roasted eggplant, peppers, and Yukon potatoes. Popular add-ons include the jicama coleslaw and virgin mojitos.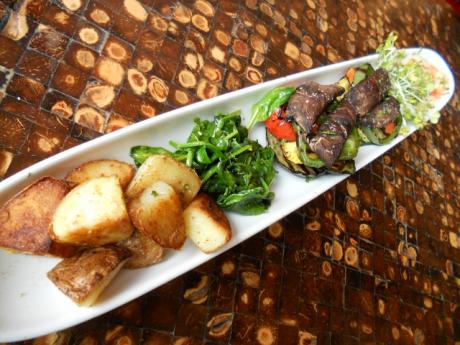 The Cove's mission is "SOL food": sustainable, organic, local. The omnivore outpost makes its own cashew cheddar cheese and tofu bacon to dress its patty of brown rice, seared mushroom, and sunflower seeds. The side of crisp kale came straight from The Cove's garden, and the popular vegan and gluten-free chocolate pecan pie was fresh from its kitchen.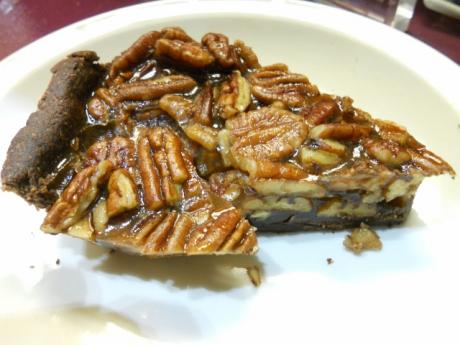 Want a taste of San Antonio festivals and feasts? Find visitor information at VisitSanAntonio.com.  And if you have dining suggestions, please share them!
All images ©Robin Tierney.