Habitat for Nonhumans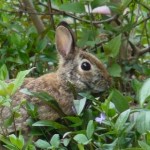 This is the second installment of Rick's posts on creating lawns that are animal and environmentally friendly. You can read the first post here.
Are there any practical alternatives to modern America's environmentally destructive addiction to perfectly maintained, lush green lawns? You betcha!
Let's explore two basic options: a more natural approach and the less-lawn strategy. Some combination of both probably makes the most sense for most folks.
To paraphrase Gilbert O'Sullivan, it's time to have a lawn again—naturally! Eliminate or greatly reduce pesticides, fertilizing, and supplemental watering. Yes, there will be some weeds (heaven forbid!) and insects (thank goodness). Your lawn will not be as green (artificially so), and it will turn brown during prolonged dry spells (fear not, it's only dormant, not dead). And you'll save money!
One easy way to reduce gas-powered mower pollution is to cut the grass less often while still keeping it reasonably tidy and within compliance of any municipal regulations. Without adding all the steroid-like fertilizers and supplemental watering, the grass won't grow as quickly.
For a natural lawn fertilizer, don't bag those grass clippings; simply let the mower spread the clippings over the lawn as you mow. If your mower has a mulching setting, all the better. It's amazing how quickly the clippings decompose and disappear into the lawn, returning valuable nutrients to the soil. Also, hauling all those clippings to landfills wastes both limited landfill space and the polluting fuel to transport them.
Another natural lawn possibility is to select one or more varieties of grasses native to your area. These will be more naturally durable and support more native insects and animals.
The other easy way to deal less with your lawn is to have less lawn—or even no lawn. The majority of Americans seldom actually use most of their lawns. If you have a larger lawn and a municipal regulations permit, consider converting larger and more remote areas into meadows. This would create an ideal habitat for both native plants (like wildflowers) and animals (like butterflies).
Another option is to replace portions of the lawn with landscaped planting areas composed of ground coverings, perennials, bulbs, shrubs, and trees. Instead of the typical isolated island of a lone tree surrounded by a vast sea of lawn, your lawn can become more of a meandering pathway among the interesting beds of plantings. While this may sound daunting, it can be tackled over a number of years by taking it as more manageable annual projects. For example, you could start with a planting area along one border of your property. Within a few years, your lawn could be reduced to the point where an old-fashioned, quiet, nonpolluting, reel push mower is all that you need—it's all I use now!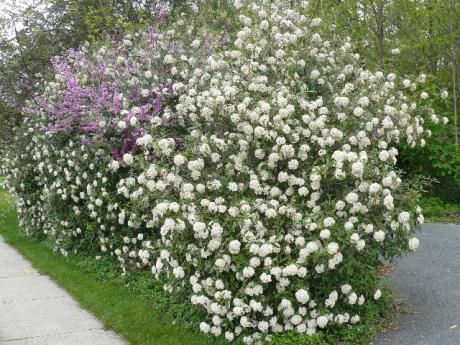 A border of evergreen prague viburnum (V. pragense) and very little lawn
To make the most of your planting areas, use lots of native plants. They will be more adaptable and provide an ideal habitat for the local fauna. A great resource for researching native plants in your area is the 2009 edition of Bringing Nature Home by Douglas Tallamy. If you order it through the Barnes & Noble link at the PETA Mall, you will get you a great resource and a percentage of the purchase price will support PETA's lifesaving work for animals!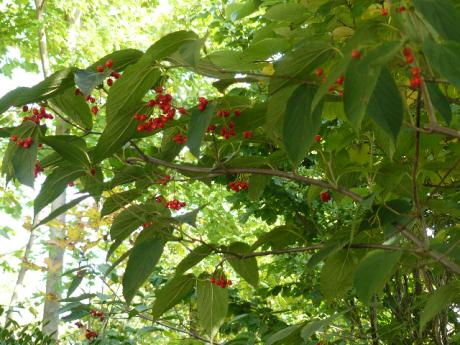 A tea viburnum (V. setigerum)—its berries are a bird favorite.
There are many wonderful varieties of viburnum shrubs, including some that are evergreen, which produce seeds that birds love. Instead of having a boring lawn, you'll have a vibrant and sustainable landscape that's more interesting—and safer for both animals and humans—in every season. You'll make Mother Nature proud!