Spreading Awareness on Earth Day
On April 22, millions of people around the world celebrated the 42nd annual Earth Day. People everywhere received reminders to turn off their lights, bike instead of drive, and take shorter showers. But did you know that the amount of electricity it takes to produce a burger far surpasses the amount that you could save by turning off your lights? The environmental factors relating to food are often overlooked by environmental enthusiasts. And that's why many of us at PETA spent our weekend volunteering at Earth Day events across the country, educating the public about one of the most important things that you can do to "go green"—go vegan.
Tabling on Earth Day is always exciting because most of the people I encounter are already aware of the many issues facing our environment and society, so all I have to do is explain that animal agriculture is one of the largest contributors to climate change, pollution, rainforest destruction, water contamination, and more—and provide a simple way to help. We handed each person one of PETA's vegetarian/vegan starter kits, which are filled with facts, tips, resources, and delicious vegan recipes, so that every person left with the tools they needed to go vegan.
I had conversations with many people, who ranged from die-hard meat-eaters from cattle-raising families in Montana to those who have been vegetarian for 20 years and vegan long before I even knew what the word meant. At an Earth Day festival this past weekend, one man came up to the booth with no indication of whether he was the former, the latter, or somewhere in between. I said to him, "Did you know that you can save more water by going vegetarian for one day than by not showering for almost three months?" He replied, "Well then, I wonder how much water I've saved by being vegetarian for 18 years!" Huge smiles broke out on both our faces. He winked and said, "I'm glad you guys are out here," before walking away. Conversations are not always that easy, but every conversation I have plants a seed in an individual's mind, and one never knows how profoundly that will affect them and what changes they will make in their life as a result.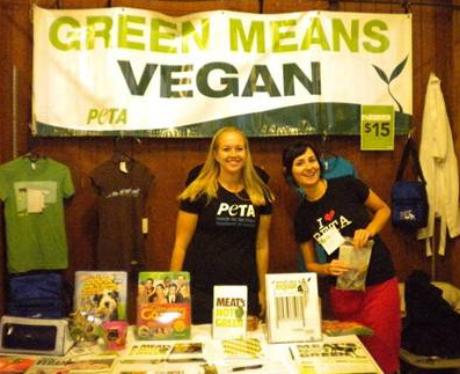 It's easy and inexpensive to host a booth at an Earth Day event or at other environment fairs and festivals throughout the year. But for those who don't have time to organize a booth or can't rustle up volunteers to help, it's even easier to order some literature from PETA and just stand on a street corner and hand them out yourself. If you're too shy for that, you can always wear a T-shirt or a button with a message on it, and you'll be spreading awareness without even trying!
We can all make Earth Day about more than just switching off your lights. We can make it about being truly green by eating green. Now imagine if each one of us was out there spreading awareness … we would change the world.
Did you do anything for Earth Day?