Build Up Your Vegan Recipe Collection to Build Strong Bones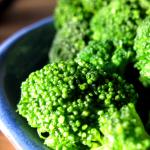 Last week, I wrote about five wholesome vegan foods—green vegetables, seeds, nuts, herbs, and soy—that are rich in calcium and other essential nutrients. Unlike cow's milk, which can contribute to osteoporosis and other health problems, these tasty, cholesterol-free vegan foods can help you build and maintain strong bones. This is especially important considering that osteoporosis-related fractures are expected to cost Americans a backbreaking $25 billion by 2025.
Experts believe that because vegans don't consume the excessive protein found in meat, eggs, and dairy products, they are able to process calcium more efficiently than meat-eaters can. If you aren't already enjoying a variety of calcium-rich foods such as kale, broccoli, Swiss chard, spinach, almonds, flax seeds, sesame seeds, tofu, tempeh, and edamame in your own meals, why not try one of the delicious dishes from PETA's recipe page to get you started? Bon appétit!
Looking for more calcium-laden recipe ideas? PETA also offers a selection of cookbooks filled with innovative vegan recipes, as do many of the merchants in the PETA Mall.
Of course, you can also get calcium simply by drinking soy or almond milk. Dairy-free milks are steadily growing in popularity and contain calcium, iron, fiber, vitamin C, and potassium, in addition to other essential nutrients—but not the cholesterol or excess fat or sodium found in cow's milk. It also goes without saying that nondairy milks are a far kinder option than cow's milk, which is meant for calves, not people!
While some risk factors for osteoporosis—age, sex, family history, and bone size—are difficult to change, you can reduce your risk for the disease by exercising, not smoking, eating plenty of fruits and vegetables, and cutting salt, meat, and dairy products out of your diet.