For Good Bone Health, Break Your Dairy Addiction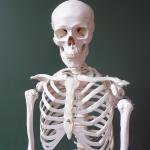 Without a doubt, cow's milk is not healthy for humans. It contains saturated fat and cholesterol, and it can contribute to an array of sometimes deadly health problems, including diabetes, Parkinson's disease, cancer, asthma, and even osteoporosis, the very condition that, according to the dairy industry, it's supposed to prevent. That's because the excess animal protein and sodium found in cow's milk leeches calcium from the bones, causing severe bone deterioration.
When it comes to building strong bones, what you don't eat is just as important as what you do. Research shows that people living in countries with the lowest calcium intake rates tend to have fewer fractures than do those living in countries with higher rates. This is likely because the countries with high calcium intake rates—such as the U.S.—also tend to have high protein intake rates from consuming large amounts of meat and dairy products. A 12-year Harvard study of 78,000 women found that those who drank milk three times a day actually broke more bones than did women who rarely drank milk.
If you want to build and maintain strong bones, dump meat and dairy products and eat wholesome, calcium-rich vegan foods, especially green vegetables, seeds, nuts, herbs, and soy foods. These foods are packed with calcium as well as magnesium, potassium, vitamin K, and other nutrients needed for healthy bones.
Dark green veggies, such as kale, broccoli, Swiss chard, spinach, collard greens, and mustard greens, are all rich in calcium, although spinach contains a compound that can inhibit calcium absorption. Go ahead and eat it up, but be sure to get calcium from other sources, too. Brazil nuts, almonds, flax seeds, and sesame seeds as well as tahini, a Mediterranean sesame paste, are good sources of calcium.
Thyme, oregano, and basil are also rich in calcium, and they can be used in many tofu dishes to boost calcium intake even further. Soy and almond milks both contain calcium, along with iron, fiber, vitamin C, vitamin K, potassium, and other essential nutrients. Vitamin D helps the body use calcium. You can get vitamin D—but not the cholesterol or excess fat or sodium found in cow's milk—in fortified soy and rice milks, orange juice, and cereals, as well as from supplements and, of course, sunshine.
Check PETA Prime next week for a selection of calcium-rich (and dairy-free!) recipes featuring the five fabulous foods that really pack a calcium wallop—green veggies, seeds, nuts, herbs, and soy products. In the meantime, feel free to peruse PETA's recipe pages and pick out the ones that make your mouth water the most.