Find Out What PETA's Supporters Are Saying!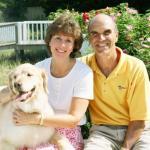 The driving force behind all of PETA's successes for animals is the dedication, creativity, and will of our members and supporters. Recently, we conducted a survey of our supporters, which offered us the chance to get to know you all (or "y'all"—yes, we're in the South) a little better.
Our supporters shared dozens of personal stories, opinions, and heart-felt thank-you messages. Here are just a few that we wanted to share with you:
• "Having to walk by a slaughterhouse in the village I grew up in put me on the path of veganism at age 12."
• "Forty-five years [ago], I became vegetarian as part of my spiritual practice. I have been adding good reasons to that choice ever since. At this point I am, above all, vegetarian because it is the only humane, ethical way to live."
• "I am often discouraged by the slow progress toward better treatment of animals, but the continued efforts of organizations such as PETA give me hope."
If you contributed to this picture of what's on our supporters' minds, thank you. Sixty-three percent of you are vegan or vegetarian—and most commonly for the clearest of reasons: animals.
With nearly two-thirds of you sharing news from PETA on your social-media pages or personal blogs and over half keeping up with PETA through our Facebook page, our Twitter feed, or other social-media sites, it's certain that PETA supporters know how to help animals online! The typical home of a PETA supporter very likely includes at least one animal as part of the household. More than 89 percent of you are currently guardians to an animal companion, most commonly dogs and cats. But, there's no shortage of supporters who count rabbits, horses, pigs, and turtles as housemates.
Thanks for sharing—your responses will help us improve PETA's efforts. And if you're ready to do more to help PETA help animals, we hope you'll join our Action Team or get involved in whatever way you're comfortable with.