Vegas Vegan Indulgence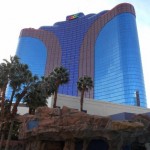 Las Vegas has earned its reputation as a place to indulge. Caught up in the spirit during a recent visit, I indulged in an only-in-Vegas show and the vegan fare at a few of those famous buffets.
After hiking with my friend and fellow animal-rescue volunteer Diane, I checked into the Rio, a huge hotel-casino a half-mile west of the Las Vegas Strip. It's popular with people seeking an affordable getaway alternative to the luxury resorts right on the Strip, such as the Wynn, which is owned by Steve Wynn, who is known to advocate healthy plant-based eating.
The Rio has a casino, free floor-to-ceiling mini-shows, a beach with pools that are open in warmer months, VooDoo (an indoor-outdoor nightclub with terrific views of the Strip from the hotel's 51st floor), and PetStay, a new dog-friendly hotel program. Canine guests enjoy hotel amenities, including food and water dishes, dog treats, and clean-up bags. I spotted a fluffy lapdog and a collie mix sitting calmly amid excited gamers in the casino.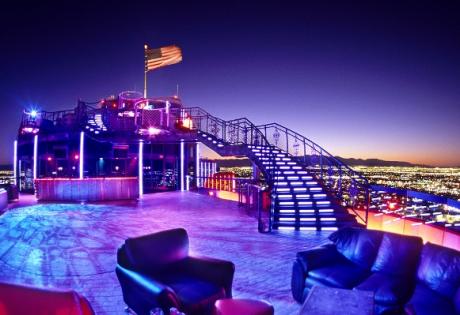 Accessing the Strip was easy—the Rio runs a free shuttle to other Strip resorts. Another fast way to travel the Strip is on the super-sleek Monorail ($5 a ride). A walkway soaring above the freeway leads to Caesars Palace, where, under a big tent on the iconic Roman-themed resort's lawn, Diane and I caught a performance of Absinthe. The show, named for the green anise-flavored spirit long-banned because of its reputed hallucinogenic effects, presents absolutely jaw-dropping tightrope, trapeze, and acrobatic acts, a death-defying roller-skating duo, and bawdy neo-vaudeville acts that lighten the atmosphere between the stupendous human tricks. It's a marvelous circus spectacle of sensual, people-powered ballet and athletic prowess.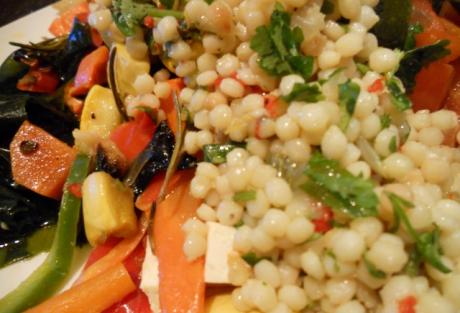 Vegan options are thankfully getting easier to find in Vegas. The Carnival World Buffet makes the "best buffet" lists each year, with nearly 300 prepared-fresh-daily dishes reflecting global cuisines. At dinner, enough of those dishes were plant-based that I overindulged. My choices included an addictive chunky tofu salad, veggies lightly stir-fried to order on an open grill, and a zesty Israeli couscous. It's open for all meals, although other veggie-lovers tell me that the best deal is a late lunch.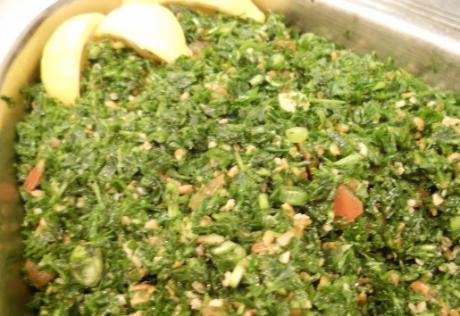 Planet Hollywood Spice Market Buffet, a family-friendly, all-day buffet has appeared on locals' favorite lists, also presents a mouthwatering array of plant-based dishes. My favorite station was the "Middle Eastern" with Moroccan-inspired specialties, such as emerald-green tabbouleh, baba ganoush, roasted red-pepper hummus, vegetable skewers, and moist figs. My finds at the fresh salad bar included a refreshing poached lychee and pear salad. I mixed in some herbs, chutneys, and sauces to create my own dishes. The atmosphere is enlivened by dozens of old movie posters hanging on the walls.
Ads for the Buffet of Buffets intrigued me. Overachieving diners can buy a $44.99 24-hour access pass for seven different buffets, including Spice Market and Carnival World. Quite a bargain—although you'd probably need an all-access gym pass to work off the calories.
When a tour guide at Las Vegas' famous Neon Museum mentioned that she was a vegetarian, I asked for her dining recommendations. Her best tip was for a new all-vegan restaurant opened by a bodybuilder!
Pura Vida Bakery & Bystro is open for breakfast and lunch every day but Thursday and is located on the west side of downtown Vegas on Western Avenue. Besides sweet treats, there are colorful, vitamin-packed main dishes and green juices.
Go Raw Café has two locations on the east and west sides of town. Both serve breakfast, lunch, and dinner, although both close early on Sundays. Nothing at the cafés is cooked, and no animal products are used. Despite menu listings such as "cheese" and "fries," rest assured that the ingredients are confined to organic veggies, fruits, nuts, and seeds. Ranging from $6 to $15, dishes include raw burritos, beet burgers, vegetable platters, and chlorophyll-rich desserts that can be washed down with an array of fresh-squeezed juices.
Veggie Delight, tucked in the center of Las Vegas' Chinatown, serves 100 percent vegetarian and mostly vegan Chinese and Vietnamese soups, noodles, mock-meat entrées, and vegetarian bánh mì for lunch and dinner daily. Nearly every dish is under $10.
Mint Indian Bistro, near the University of Nevada Las Vegas campus, offers vegetarian and vegan menu choices from bean-lentil soup to a daily lunch buffet. Most dishes are under $12.
It's a sure bet that you'll find satisfying veggie-powered cuisine on your Vegas vacation. Let us know your favorites.