Vegas: Art of Neon and Conscience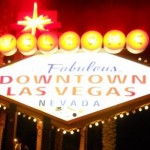 This is the second of two posts about visiting Las Vegas from PETA Prime contributor Robin Tierney.
Las Vegas is associated more often with consumption than with conservation and with sin instead of ethics. But conservation and preservation are figuring more prominently in the famous valley metropolis.
Inspired by the region's growing commitment to expanding bicycle infrastructure, I picked up a rental bicycle and bike map at the gleaming new RTC (Regional Transportation Commission of Southern Nevada) Transit Center in downtown Vegas. It offers a great deal for local residents, too, with a year's use of the center's showers, lockers, and bike-maintenance services for just $60. While I don't recommend bicycling on the Strip, I do recommend combining pedal-powered touring with the sleek municipal buses, which all boast bike racks and travel all around the city and nature areas, including the stunning Red Rock Canyon, where you might spot bighorn sheep or wild burros (although admittedly I did not).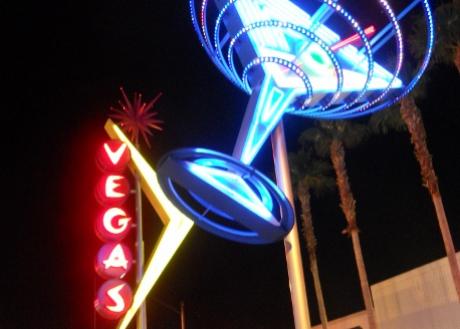 I biked to the north end of downtown on N. Las Vegas Boulevard, visiting the Neon Museum Boneyard. While an indoor exhibition space will open soon, the Boneyard is worth touring on its own. On display are old signs from the Stardust, Moulin Rouge, and the Flamingo and other icons such as one of the old Aladdin Casino's lamps. The Neon Museum is run by a nonprofit dedicated to preserving this classic Vegas art form.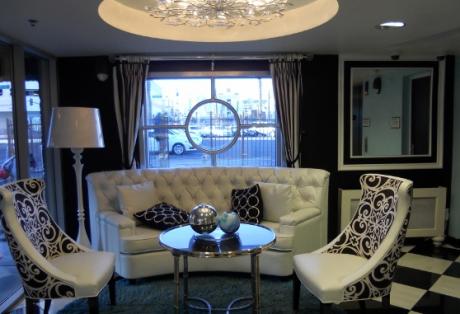 Downtown, you can stay in retro glory in the beautiful Cabana Suites, a boutique hotel operated by the nearby iconic El Cortez Hotel on Fremont Street. The furnishings in this bright, clear gem evoke a cheery nostalgia. The colors are bold, pure, and happy, and the location's only a block from the Fremont Street Experience, where I caught a Queen tribute on the gargantuan Viva Vision video screen projected throughout the corridor, which is several blocks long.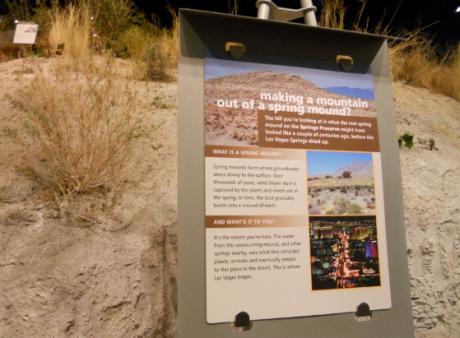 West of downtown, I discovered Springs Preserve, a campus of sustainability, with handsome architecture encasing a Nevada history museum, a natural history museum, residential home and garden demonstration displays, and venues for children's and adult programs. I learned the history of the now-vanished springs on the site that attracted thirsty animals who adapted to the harsh drought conditions and sun, Native Americans who established settlements, and profit-seekers involved in mining, railroads, and selling land to farmers, ranchers, and other settlers.
Trophy Hunter, a temporary art exhibit organized by the Nevada Museum of Art, caught my eye and imagination. Artist Bryan Christiansen assembles life-size contemporary sculptures from discarded furniture that he finds in Reno-area streets and alleys. His works suggest the evolution of the concept of hunting from survival to sport. Christiansen grew up in a cabin in the Black Hills of South Dakota, learned to love nature and to hunt, and eventually questioned the conflicting values involved in doing both.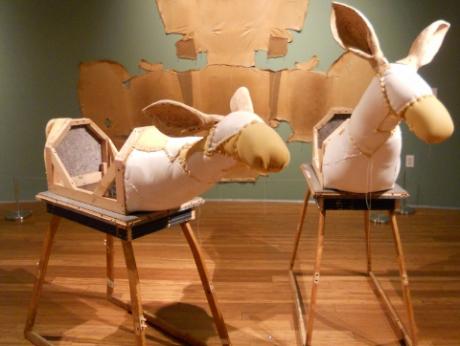 He disassembles and reassembles cast-off home goods into wall hangings and sculptures that evoke taxidermied animals and mounted skins but without the animals. His rough finishing, soiled upholstery, and scratched wood become metaphors for the vulnerability of the prey of humans, the most destructive predators, and the scars left on individual animals and species. Wall displays include a "pelt" of a flayed La-Z-Boy recliner, and sculptures include a stag whose hide comes from an imitation antique sofa and a fawn conjured up from children's furniture.
These symbolic targets of recreational predation stood stock still, but I was deeply moved. View this time-lapse video of the artist at work, and let me know what you think.
All images ©Robin Tierney.