Reading, Writing, and … Animal Rights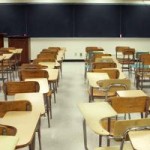 If you've been considering going back to school, you might be pleasantly surprised by the variety of offerings in current course catalogs, including a quickly growing number of animal studies programs.
The Animals and Society Institute now lists more than 100 university courses across the country that fall under the rubric of animal studies, including the animal studies minor program at Drury University, recently endowed by longtime PETA supporter Bob Barker.
This nascent field of academia includes "anything that has to do with the way humans and animals interact," according to Marc Bekoff, an emeritus professor of ecology and evolutionary biology at the University of Colorado–Boulder.
That definition includes quite a lot when you consider how central a role animals play in everyday human thought. From art and literature to anthropology and philosophy, humans have long pondered the animal-human interactions that color our daily lives.
Pioneers such as Jane Goodall helped pave the way for the study of animals in the classroom. Her groundbreaking work on chimpanzees showed the world that animals have complex emotional and social lives that are as important to them as ours are to each of us. And we now know that many animals—not just primates—display sophisticated behaviors, such as language and tool use, as seen in fish and crows.
Philosophy also plays a large role in the rise of animal studies. When Peter Singer first questioned the philosophical implications of killing, eating, and experimenting on animals in his seminal book Animal Liberation in 1975, many people may have viewed his philosophy as radical. Now, the ideas of Singer and others are of growing importance to academia. One of the main questions of philosophy has always been, To whom should we direct our moral interest? Lori Gruen, head of Wesleyan University's philosophy department, says that now, "the animal question is right in the center of ethical discussion."
Just as women's studies, African-American studies, and other studies of marginalized groups have found legitimacy in the realm of academia, universities are responding to the growing realization that nonhuman animals deserve rights too. It's enough to make you want to return to those ivy-clad walls and hit the books. Study hall, anyone?