Ice Dune Spotting at an Erie Beach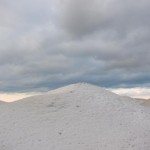 "Don't climb the ice dunes," warned park rangers, signs, and local residents. Yet all seemed serene as I scanned the silent, frost-bitten landscape of Presque Isle State Park, a 7-mile spit of land arching into Lake Erie from Pennsylvania's far northwest corner.
Locals share tales of daredevils who've ascended ice dunes only to crash through and break an arm or a leg on ice jags, succumb to hypothermia, or nearly drown within a frosted tomb. Then there was the story of a woman stuck on a dune that broke free and drifted away from the shore. For those who aspire only to plant eyes, not feet, on the dunes, the rewards come with lesser risks, such as fingers numb from clutching cameras.
Last January, I set out to see the ethereal wintertime ice dunes that transform Presque Isle into a sci-fi moonscape. The Arctic has more ice dunes, but Lake Erie is easier to reach, and the nearby town of Erie offers sights of its own.
The Erie Art Museum has transformed recently with the refurbishing of its 1839 Greek Revival Old Customs House building and opening of a new LEED-certified wing. Its holdings span Cropsey to Calder to a carousel reclaimed from a grocery store. After stints as a cowboy, carnival worker and fencing instructor, Louis Dartanion Alexatos made the "menagerie machine" carousel in the mid-20th century at his antiques store on nearby State Street. It's rimmed by Bible scenes, a Christ figure, and the devil carting a sack stamped, "Souls." The artist, who died in 2006, kept carving even after losing his eyesight.
The museum's new exhibits add to this wintry mix of a trip. In "The Politics of Snow," Diane Burko's oil paintings of Alaskan glaciers and other geological formations reveal clues to accelerated ice melt. Another new show, "Lake Effect Lace," features snowflake images taken by Carol Posch Comstock through a microscope.
After savoring the art, I marched through town past townie haunts like Pie-in-the-Sky Cafe, a BYOB joint whose menu includes hearty vegan soups and entrées.
Booted up and buzzed on dark chocolate bark from the in-town Romolo Chocolates factory, I drove 15 minutes to Peninsula Drive, a necklace of land running north to Presque Isle State Park, which harbors Pennsylvania's only beaches.
The park entrance is just past the roller coaster tracks of Waldameer and the gleaming green tower of the Tom Ridge Environmental Center, which offers such cerebral thrills as geological displays and eco-tours.
Free from fair-weather throngs, winter hikers have the park to themselves. Watch for birds, thick-furred rabbits, fragrant bayberry leaves, and such "hard water" escapades as skating, ice surfing (a windsurf sail with skates), and iceboating on hand-built craft sailing up to 80 miles per hour.
My favorite sights were the ice dunes I mentioned earlier—some surpassing 15 feet—that form along the lake's edge when snow, ice chunks, and frosted wave-spray swirl with waves. The dunes' lunar-like textures vary from mounds covered by frozen frosting to peaks pockmarked and abraded by wind-thrust grit to hills that look to have been sandblasted by a turbo-charged power washer. The colors range from ghostly white to variegated honey, ale, and ash, turning charcoal as passing clouds cast their shadows.
Where to stay? The Boothby Inn, with the theme of its four rooms taken from enchanting objects and photographs from the proprietors' world travels. The inn attracts interesting travelers, and the owners will prepare vegan-friendly breakfasts of fruit and steel-cut oatmeal.
Where to eat? Definitely hit Whole Foods Co-Op Café, an indie co-op known for fresh, delicious, bargain-priced fare such as nori whole-grain wraps, silky coconut-squash soup, and gourmet pizzas. I also enjoyed a vegan soup and salad at the Erie Art Museum's Wave Cafe.
Been to Erie? What are your favorite finds?
All images ©Robin Tierney.