China Poised to Condemn More Cows to Factory Farms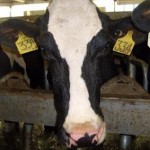 Why would a nation where the majority of people are lactose intolerant want to increase its dairy consumption?
It seems perplexing, but that's exactly what's happening in China, a country that's quickly expanding factory farming operations. According to the BBC, China wants to nearly double its milk production between now and 2020, and Prime Minister Wen Jiabao has even gone so far as to urge students to drink a glass of milk a day.
The BBC notes that 75 percent of China's milk production currently comes from dairy farmers who have four (or fewer) cows. But if China moves toward a factory dairy-farm system, cows in China could be subjected to the same horrors that cows face on U.S. dairy operations: They will be continuously impregnated—causing their bodies to wear out after only a few years—and given hormones that force their bodies to produce far more milk than they would naturally. China has a dismal record when it comes to animal protection, so there will be few, if any, legal safeguards against abuse.
PETA Asia-Pacific is hard at work in China, spreading the message about cruelty to animals on factory farms and promoting healthy, humane vegan diets with attention-grabbing demonstrations and star-studded ads.
Luckily, while China tries to increase its dairy and meat consumption, the opposite is true on the other side of the Pacific. A spate of recent articles show that Americans are eating less beef—consumption is down 13 percent from 10 years ago, a 60-year low—and sales of nondairy milks experienced a 13 percent growth in the past year. See why so many people are embracing healthy, meat- and dairy-free meals. Order a free copy of PETA's vegetarian/vegan starter kit today!