Take Your Skis, Appetite, and Dogs!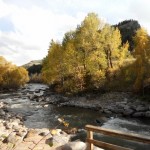 Skiers, I've found a great Vail Valley haven where you can bring your dogs, find plenty of vegan cuisine, hike, swim, do yoga, and revive with superb views. It's The Westin Riverfront Resort & Spa at Beaver Creek Mountain, which is located in Avon, Colorado, about 90 minutes from Denver.
I visited the area before ski season in order to hike around Beaver Creek Mountain.  At the time, the slope shimmered with golden aspens shortly after the area's first snowfall of the year. The mountain offers 4,040 feet of vertical and 146 trails. It's ski, snowboard, and snowshoe heaven in the winter and a hiker's paradise off-season when lodging bargains are easy to find. Don't feel like heading up the mountain? You can walk or jog on a paved trail alongside Eagle River. After exhausting your energy, you can relax in the Westin's outdoor hot tubs and lap pool, which face the mountain range.
Opened in 2008, the Westin has made some upgrades over the last couple of months. The expanded athletic club houses Vinyasa flow yoga, indoor cycle-fit classes, and Pilates sessions with reformers (the authentic equipment), and guides lead complimentary bike rides, walks, and snowshoe outings. The resort also endeavors to be eco-friendly by donating a buffer zone to the community for recreational use and planting 1,700 pine saplings, and this spring, it will close off acreage to help migrating elk.
There's also that same environmental spirit at Cima, the resort's on-site restaurant with a focus on sustainable sourcing, an on-site garden, composting, and recycling. There are some great vegan-friendly options on the menu, but if you make your vegan meal request in advance, the chefs will get creative. I enjoyed a "luxe" salad, sweet-potato crisps, pleated ribbons of locally grown black Tuscan kale, and toasted quinoa sautéed with currants, roasted yellow and red beets, and blanched-and-fried red Brussels sprouts. The delicious dessert involved dollops of compressed fruit sprinkled with black sea salt and paired with housemade cherry, peach, and apricot sorbet.
In the shopping center directly across from the resort is the Avon Bakery & Deli. This popular locals' spot serves a savory veggie sandwich on fresh-baked bread and a filling mushroom and barley soup.
The veg-powered adventurer won't go hungry here. And when you want to relax, you can enjoy the views from your room—or the company of cheerful guests, including many canines!
All images ©Robin Tierney.