Pro-Animal Pronouns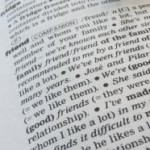 I was watching a TV program today that featured animal control officers who are responsible for rescuing injured animals from city streets. Unquestionably, these individuals are dedicated. But at one point they referred to the animal whom they had just rescued in an oddly discordant way.
"We're taking it back to the shelter …." It? The living, breathing sentient being with a wagging tail is an "it"? That got me thinking.
How will we ever get people to view animals as living, feeling individuals who are entitled to rights if we continue to refer to them in the same manner as we would a desk or a sack of flour?
Many of us who care about animals try to pay particular attention to the words that we use when talking about them. However, for all our diligence, we often overlook the fact that the smallest, most seemingly insignificant words may sabotage our efforts.
With that in mind, read on and see how you feel about making the following subtle shifts in your animal references:
"Guardian" or "steward" vs. "owner": While there has been some controversy surrounding the use of the word "guardian," it is still preferable to the property-centric posture conjured up by the word "owner." Words that foster a sense of responsibility are a better choice than those that perpetuate a chattel-based relationship.
"Companion animal" vs. "pet": This is another subtle but important reclassification. The premise here is that "pet" connotes ownership and "companion animal" engenders thoughts of companionship and familial relationships.
When describing animals, consider using terms such as "he," "she," "they," "them," "who," "whom," etc., rather than "which" or "it."
While these changes are fairly easy to incorporate, the subtle influence that they have on people simply cannot be minimized.
As a humane educator, I believe it's important to bring these issues up in class. When conducting presentations, if I do not get a question about why I am using gender-based terms for animals, I create the opportunity by prompting discussion: "Have any of you noticed that I am referring to animals as "he" and "she" instead of "it"? "Who can tell me why I might be doing that?"
I explain that as treasured members of my family, animals are entitled to the respect that comes with being referred to as living beings as opposed to objects. I then use a reverse example to illustrate the point and follow it directly with a "feeling" question. The dialogue might go like this:
"How many of you have heard one of your parents ask the other if you've finished your homework yet? They might say, 'Did he finish his homework yet?' or 'How did she do on her homework?' Well, what would you think if they had said, 'Did IT finish ITS homework yet?' How would that make you feel?"
Using gender-based pronouns when we refer to animals demonstrates empathy and shows that animals are not all that different from us. And while I encourage you to start today, be patient with yourself and others whom you might try to educate about this. This new habit must be consistently practiced in order to ensure firm rooting. Remember, it takes about two weeks to break old habits and begin to integrate new ones.
Finally, remember that even the most seemingly innocuous conversation provides an opportunity to educate. It is often through words and language that we are able to encourage a shift in people's consciousness and change the world in a huge way.
I invite you to join me! Be encouraged by the knowledge that the bridge you are helping to build is one that will forever change the way in which animals are defined. It could make all the difference in the world … for the animals with whom we share it!