More Americans Forgo Meaty Meals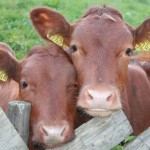 Global meat production has increased 20 percent in the past 10 years, but America's meat consumption has steadily declined over the past decade, largely because of ethical, environmental, economic, health, and/or humanitarian concerns. Essentially, the country that eats the most meat is now eating less meat and even embracing a vegetarian lifestyle—or at least flexitarianism.
Gone are the days when Americans pile heaping helpings of meat on their dinner plates every night. The U.S. Department of Agriculture (USDA) puts the 2011 U.S. per capita beef consumption at 57.4 pounds, down 13 percent from 10 years ago and down about 25 percent from 1980. The USDA estimates that in 2012, Americans will eat, on average, "only" 54.1 pounds of beef.
That's 54.1 pounds more cow flesh than we'd like, of course, but considering that the average American tends to eat twice as much meat as the average person worldwide, it is a sure sign of progress.
Things are changing, as Mark Bittman says. Many people have stopped eating—or cut back on—beef, chicken, and pork in an effort to lose weight or prevent heart disease, diabetes, cancer, or other chronic diet-related diseases. Others have gone meatless because versatile vegetarian foods—including beans, rice, vegetables, tofu, and pasta—are relatively inexpensive when compared to meat, eggs, and dairy products. People who eat healthy plant-based foods also typically don't have to shell out extra money for statins, blood-pressure pills, weight-loss plans, or other health-care costs that result from eating fatty, cholesterol-laden foods.
Many others simply want to help save animals and the planet. A United Nations report in 2010 supports what PETA and environmental organizations have long stated: Plant-based foods require fewer resources and cause fewer greenhouse-gas emissions than meat and dairy products. And a May 2010 FGI Research study showed that 50 percent of Americans knew about the nationwide Meatless Monday movement—up from 30 percent just six months earlier—and that at least 27 percent of people who knew about the campaign had opted to eat less meat as a result.
Whatever one's reason for eating less meat, it's a good thing for everyone to do! While observing Meatless Mondays is great start, going vegan is an even better way to improve your health and save the planet and animals too. So if you haven't already stopped eating meat and other animal products, check out PETA's tips on making the transition to a vegan diet.