A Lesson From the Eagle Outside My Window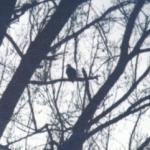 There is a bald eagle who hangs out in a tree outside my window. I can tell when the eagle is around because my cat, Lucy, makes unique "the eagle has landed" growling sounds from her hiding spot under the couch.
The bald eagle is beautiful and majestic, but I cannot stand to watch him hunt the ducks who I have grown so fond of everyday. These duck families visit my lakeside beach several times a day, and I watch the babies grow from adorable little fuzzy balls through their gawky adolescent stage to full adulthood. It breaks my heart.
But at the same time, it reminds me of a very important lesson. Thankfully, we as humans have the unique ability to make ethical choices when it comes to our food. We are not driven by the law of the jungle, like the eagle is.
Watching the eagle hunt the baby ducks makes me wonder how anybody would ever choose to participate in this type of activity by, for example, ordering roast duck, or any other dead animal, in a restaurant. Have we forgotten that the animals we eat were once babies and part of a family? Don't we realize how desperately they want to live?
Some people will argue that the example of the eagle hunting his prey is justification for humans eating meat. They say it's only "natural." But there is nothing natural about factory farming and the meat industry! And besides, when you really think about it, it simply comes down to one basic question: As humans, we can live very happy, healthy lives eating a plant-based diet that does not harm animals, so why would you choose instead to feed yourself a diet created out of death, cruelty, and abuse?
I am glad that as a human I am an omnivore, not a carnivore. I do not have to kill animals to eat in order to survive. Thankfully, I can choose to eat a compassionate diet, free from violence and cruelty. I have chosen a vegan diet and I know that many of our readers have as well.
For those of you who are not yet vegetarian, I recommend visiting PETA.org, where there are plenty of resources for you to consider.
And thanks to the eagle in my backyard for reminding me how important it is that we humans choose kindness.