A Lifetime of Helping Animals
Longtime animal activist and PETA Augustus Club member Patricia Butterfield shares with us her lifetime of compassion for animals and recent experience opening Cavalier Cottage, an animal-friendly bed and breakfast in Charlemont, Massachusetts.
I have always had this incredible love, passion, and concern for animals. Perhaps it came as an inheritance from my mother, who felt similarly. As I now prepare for my own 67th birthday, it seems to have been an intensity that has grown as the years have gone by.
I became involved in the animal rights movement soon after I received a mailing from PETA more than 20 years ago. This was the start of personal consciousness-raising and set me on a path of helping animals that I continue to follow to this day. After a year or two of donating to PETA and other animal organizations that I supported, I decided that it was time for me to get involved in a more definitive manner.
Soon after, I was happy to have PETA ask me if I could help with its campaign to help cut out dissection from the public schools in my hometown of Stamford, Connecticut. After a year of working on the issue, the Stamford school board finally adopted a policy that gave its students the choice to opt out of dissection and use an animal-friendly alternative instead. While such policies may be more common in many school systems today, it was certainly no small feat to get one adopted just a few decades ago!
I continued to work with PETA and the New England Anti-Vivisection Society to expand these efforts, ultimately becoming employed by the latter and helping to establish the Ethical Science Education Coalition (ESEC). ESEC and PETA's TeachKind both offer great resources to replace dissection and implement humane education in schools. I later helped to found a local animal rights group in western Massachusetts named New England Animal Action.
I now largely stay involved in the animal rights movement via the Internet and enjoy looking after the seven dogs and 10 cats (all rescued animals but one) with whom I share my life. But the bulk of my time recently has been focused on creating a new animal-friendly bed and breakfast, Cavalier Cottage!
I opened the B&B after discovering that there were very few lodging options in my native western Massachusetts area that welcomed companion animals. It seemed like the ideal business for me to start in my new life of "retirement." I'm delighted to welcome animal-loving visitors who come to this beautiful and diverse area of the Northeast—with or without their animal companions.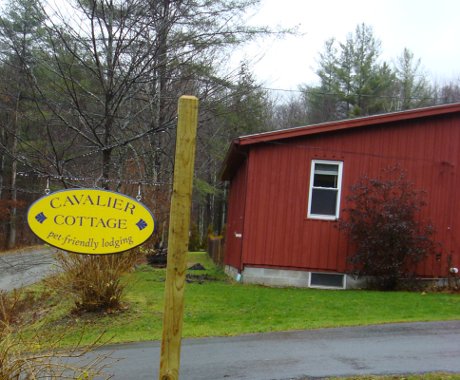 Nestled at the base of the surrounding Charlemont hills, Cavalier Cottage is a generously sized, bright, and comfortable studio with a full-size kitchen and eat-in area, located on a beautiful, quiet country road that's perfect for dog walks! I believe that this graciously appointed space offers people and their animal companions all the amenities of home. A continental breakfast with plenty of soy milk, hot and cold cereals, locally made baked goods, and teas or coffee will help jump-start your day.
For more information, please visit CavalierCottage.com.