Best of PETA Prime: Why Do People Go Vegetarian?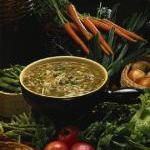 One of the most effective ways to prevent animal suffering is to encourage more people to adopt a vegetarian or vegan diet. What inspires people to make this change? I've tried to understand the motivations so that I can be a better advocate for animals.
People stop eating animal foods for many reasons, and often vegetarians will discover additional benefits to their choice once they've made the switch to plant-eating. Rationales for vegetarian and vegan diets fall into three categories: compassion for animals, personal dietary preferences, and concern for sustainability and justice.
Compassion for Animals
For many people, the decision to not eat animals is motivated by compassion for animals who are raised for food. The vast majority of cows, pigs, and chickens in the U.S. live and die in appalling conditions on factory farms and in slaughterhouses.  As one vegan I know puts it, "I'm not willing to pay other people to do things to animals that I'm not willing to do myself."
Most people are horrified by cruelty to dogs and cats. When they find out that farmed animals are also sentient beings with the ability to feel fear, pain, and joy, they realize that their diet is inconsistent with their values.
Personal Dietary Preferences
Health concerns drive many people to go vegetarian. Many people know about the increased risk of heart disease, diabetes, cancer,  and obesity that results from eating meat, dairy products, and eggs. Food safety issues are constantly in the news, and a vegetarian diet is an easy way to decrease the risk of exposure to food poisoning and mad cow disease.
I have many friends who simply don't like the taste or texture of certain meats. And there's the "yuck" factor too—some people won't eat the meat of animals like rabbits or horses, or meat that includes heads, feet, or tentacles. Religious beliefs can drive dietary preferences also. Several major religions prohibit consumption of certain animals or encourage a vegetarian diet as a way to live a more compassionate and spiritual life.
Sustainability and Justice
More and more people are going vegetarian or vegan out of concern for the impact of meat-eating on the environment and on other humans. Whether they are worried about climate change, water pollution, feeding the hungry,  or conditions for workers,  many people find that a vegetarian or vegan diet is a great form of personal activism.
I'm fascinated by people's "how I went vegetarian" stories. Some have a sudden epiphany and stop eating all animal foods overnight, while others gradually give up animal foods over a period of months or years. But most people remember the moment when it all began.
"I was eating a steak while looking into my dog's eyes. All of a sudden, the inconsistency made me put down my fork."
"I saw a sign that read: 'Farm animals never have a nice day.'"
"I found out that people don't need to eat meat to be healthy."
"I was telling some friends about how awful vivisection is, and one of them asked me how vivisection is different from killing animals for food."
"Someone handed me a leaflet. I had no idea that farm animals were abused like that!"
"A friend served me an amazing vegan meal."
What's your own story?