Holiday Vegan Baking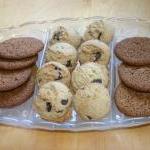 I took up baking about a year ago because I love cookies and wanted to learn how to make my own. Luckily for me, cookbooks featuring vegan cookies and desserts are plentiful these days. I can't imagine learning to bake as a vegan 10 or 15 years ago, when vegan baking was practically unheard of and those cookies you brought to your family's potluck party most likely ended up in the trash!
For the vegan baker today, the substitutions are plentiful. There are soy and rice milks and creams, chocolate bars and chips without any dairy products in them, and natural sweeteners and sugars that haven't been filtered through bones–not to mention higher-quality organic flours, such as spelt and barley.
There are also egg and butter substitutes, but I prefer not to use them. I mostly use recipes that rely on the leavening agents in baking powder and baking soda instead of egg replacements and on organic safflower or canola oil instead of butter substitutes.
One of my favorite baking cookbooks is called Simple Treats. I bought my copy at my local vegan store in San Diego, called "All Vegan," but I am sure that you can find it at your local bookstore or online.
Simple Treats is written by two sisters, Ellen and Jill Abraham, who wanted to come up with sweet and delicious yet simple and healthy vegan treats. The recipes are wheat-free (barley flour and rolled oats are used) and dairy-free, and they use natural sweeteners. None of the recipes contain egg replacements or butter-flavored spreads. I have made almost every cookie in this book, and they definitely pass the test. If I take a plateful to the guys who work in my husband's woodshop, they disappear instantly, not one of them even questioning whether or not these cookies are vegan.
The tahini chocolate chip cookies are really different and totally delish, using a mixture of tahini and peanut butter for an updated version of the peanut butter cookie. The ginger snaps are great, too, and with the 3/4 cup of semi-sweet chocolate chips that I add, they turn into amazing ginger chocolate chip snaps. The chocolate walnut brownie cookies might be my all-time favorite.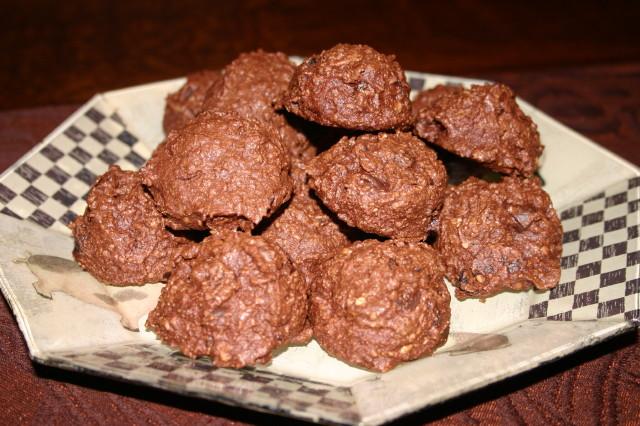 These cookies are like brownie bites–or brownie bombs, which is what we call them at my house! Sometimes I add 1/2 cup or so of dried chopped cherries to my brownie bombs, as I think chocolate and cherries are meant to be eaten together.
You have probably noticed that I like chocolate! For those of you who prefer cookies without chocolate, there are plenty of awesome recipes to choose from, including cornmeal sandies, coconut macaroons, cashew jam bites, and almond shortbread. And if that's not enough for you, check out some of the yummy dessert recipes at PETA.org.
These days, if you bring a vegan dessert to a potluck or a family dinner, it is almost certain that it will be eaten and totally enjoyed, and I bet if you don't tell anyone, they won't know that it's vegan. I think Simple Treats would be a welcome addition to anyone's baking-cookbook collection–it's definitely my favorite cookie cookbook. What's yours?