Notes From a Vegan Vet—Part 2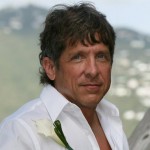 We at PETA Prime would like to welcome a new voice to our community of dedicated and compassionate writers. Dr. Barry Taylor was recently chosen as the male Sexiest Vegetarian Over 50 winner for 2011.
In my last post, I mentioned Buck, the family member who inspired one of my very first words.
Buck was a nice dog. He never nipped anyone, never eliminated in the house, and never fought with another animal. But during my childhood in the early '60s, few male dogs were neutered, and Buck was no exception. So Buck ran off constantly. He chewed things. He stole the neighbors' laundry and brought it home. When my dad decided to tie him up to keep him contained, he ripped all the siding that he could reach off one side of the house. He was sweet. He was beautiful. But he was untrained and "incorrigible," according to my parents.
So when we moved from Brunswick, Ohio, to Vernon, Connecticut, in 1961, Buck stayed behind at an animal shelter. I was upset, of course, but I was also only 2.
Horrible, right? Yet I know from my experience as a veterinarian that a version of this scenario is likely happening in your neighborhood right now. Friends, neighbors, or family members are making the decision that the dog or cat who has lived with them and loved them for years has become a nuisance … or is too expensive … or sheds too much … or smells bad … or runs away too often. As a result, they are making plans, right now, to abandon him or her at an animal shelter.
Here's where I hope readers like you will intervene. It may be as simple as buying them a gift certificate for dog training or grooming, helping them out with the cost of neutering their cat, or offering to brush, walk, or play with their dog on a regular basis. Tell them that you care about what they're about to do. Tell them that they'll break not only their animal companion's heart but yours too.
Animals are a lifetime commitment. When you decide to become your animal companions' guardian, you are making them a promise that you will cope with whatever comes up to the very best of your ability. You are committing to seeing them through disease and to having them vaccinated, altered, and, if necessary, groomed. You are committing that you will deal with less than perfect behavior with compassion and through gentle training and encouragement. You know the phrase "for better or for worse, for richer or for poorer, in sickness and in health." The only difference is that your ex can get along fine without you. Your animal companions can't. Their love is unconditional. Yours should be too.
Choose an animal companion wisely. Plan for a future together. Make a promise. And then live up to it.