Short North Noshing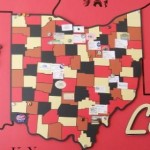 This is the second of two posts on compassionate travel to Columbus, Ohio. You can read Robin's first post here.
On one wall of Knead, a modern diner in Columbus, Ohio, there's a map of the state denoting locations of nearby farms. For me, it set the tone for Short North, the city's arts district.
"This is a place where individuals can build a business if they have an idea or dream about something involving food," said Todd Mills, development director for Local Matters, a nonprofit that connects farmers and chefs, teaches kids how to garden, and sends its "Veggie Van" into underserved areas.
Short North's old bars and empty storefronts have been replaced by independent shops, artists' living and working quarters, and eateries serving updated twists on comfort foods using local ingredients. At night, High Street's metal arches glow with colored lights, and locals venture out on their bikes or with dogs of all sizes.
"Vegan" is the first category on the menu at Knead. I faced a tough decision: the Slop V Joe, with smoked organic shiitake mushrooms, pickles, tomatoes, walnuts, spelt, and beans on focaccia, or the Chill – V Tostada, a combination of grains, legumes, and veggies cooked in red chili sauce with black beans, tofu sour cream, sprouts, and avocado.
At Betty's Fine Food and Spirits, I enjoyed a well-seasoned pumpkin chili and three-mushroom salad with a fellow vegan who's involved with the Columbus Food League.
Dragonfly serves up terrific vegan food, including mac 'n' cheese made with orzo, diced quince chutney, chili, kale, and cashew nut cream. But this vegan favorite will be reopening as Till Dynamic Fare in January, with an emphasis on biodynamic ingredients and those picked from the chef-owner's urban garden.
Speaking of picking, Short North is anchored by the North Market. Dating back to 1876, the enclosed marketplace now thrives in a handsome old manufacturing plant. Vendors include Expressly … Market, Bakery & Bistro, whose terrific vegan selections during my visit included a sensational Thai coconut soup, a portobello lentil veggie burger, pumpkin pie, and a layered carrot cake. The Greener Grocer sells local, fresh-picked produce, from Swiss chard to ground cherries, also sometimes called "gooseberries."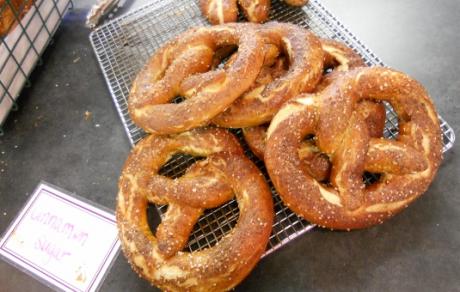 Other vegan food sightings included Clever Crow's vegan cornbread-crust pizza with corn, chipotle hummus, and chives and Brezel's crusty hand-rolled Bavarian-recipe pretzels that come in savory and fruit-sweetened varieties.
Despite the cold, there was a long line and a couple dancing in a lot next to bohemian 83Gallery. The line led to Fresh Street, a pop-up food cart specializing in Asian crêpes that opened six months ago. I ordered a delicious soy chorizo avocado in a wrap that owner Kenny Kim said was made with grated Japanese mountain potatoes and soy milk.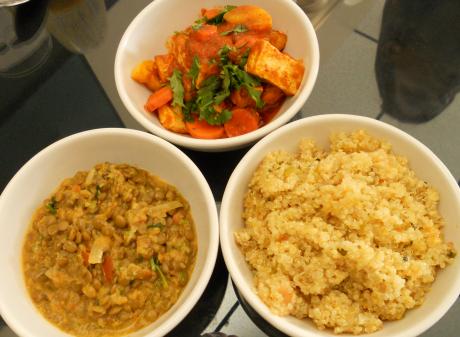 There I met Bethia Woolf, who said that the best burger in town is The Northstar Café's charred patty of black beans, brown rice, dates, and beets. Woolf leads Columbus Food Adventures tours. She clued me in to Solay Bistro, where Nadira Abdirahman has been creating mostly plant-based West African fare since 2010. It's a warm, tasty place to relax after noshing around Short North.
All images ©Robin Tierney.