South Beach: On a Health Kick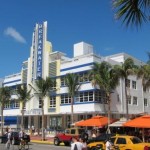 I'm having a raw biryani with a salad, made not with rice but with shaved almonds, translucent raisins, and farm-fresh cabbage sliced into bits the size of kernels. My friend Dana and her husband are both having a richly colored stroganoff made from entirely plant-based ingredients. I'm so entranced by the food that I forget to ask what their children are having, but it looks equally delicious.
We're dining at T.H.R.I.V.E., a virtual garden of Eden hidden in the middle of a block in South Beach, that Miami mecca often known more for drinking and decadence than healthy vegan food. But among locals, a strong health movement has taken hold, sparking the opening of new eateries catering to vegetarian and vegan-inclined diners. I learned about this great place from musician Andres Ripoll, who was biking with his friend Peggy. Ripoll's dachshund, Sammy, was seated in a big, comfy front basket.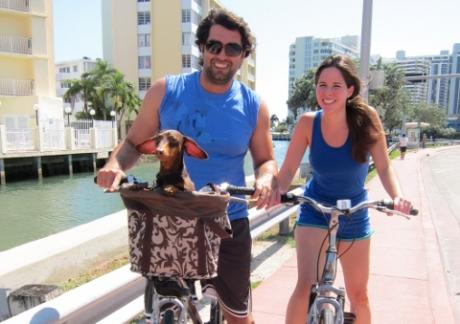 T.H.R.I.V.E., whose owner spent years traveling the world with an airline, opened just over a year ago. The restaurant's name is an acronym for "The Healthy Raw Inspired Vegan Experience," and each time I've visited, it has been a joy. In South Beach, living la vida local is now about health, and T.H.R.I.V.E. always seems to be filled with smiling locals, from families to musicians to local media personalities. During my recent visits, I biked, jogged, and met many area residents who were happy to share suggestions for green, healthy, vegan-friendly touring.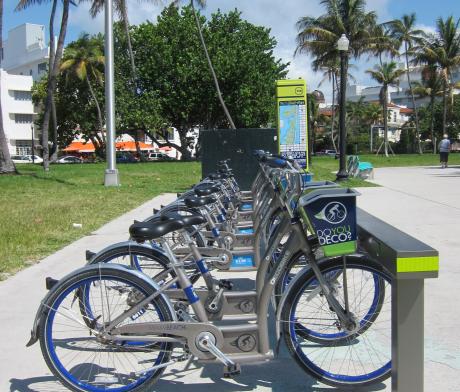 Among their tips: DecoBike instead of drive. New DecoBike bike-share stations have popped up near the area's famous beaches. "You can ride it place to place, to the coffee shop, parks, the beach, and just leave it at any of the bike-share stations all around the beach," advised Jonathan, a local who was tooling around on a DecoBike.
Explore the art deco architecture. Preservation has long been a key to South Beach's revival, and hundreds of buildings inspired by the golden age of ocean liner and aviation travel abound. You can learn many of their backstories during a tour by the nonprofit Miami Design Preservation League.
Indulge in vegan cuisine. Aside from T.H.R.I.V.E, which I mentioned above, you'll find plenty of delectable dishes throughout the area, including many based on Miami's favorite superfood, the sweet potato.
Go-Go Fresh Food Café offers choices including mini pizza-pies (many of which are vegan and gluten-free), a sweet and savory baby spinach and quinoa-crowned salad, and a delicious veggie burger with a lemon tahini spread.
Apple a Day Natural Food Market serves up a curry tofu wrap and avocado wrap on a sprouted bread with a cup of veggie soup at a bargain combo price. Try the eatery's immune-boosting echinacea root or Blueberry Nirvana juices.
The Café at Books & Books on Lincoln Road offers up vegan-pleasing choices, including a Cuban black bean soup, a grilled tofu fajita wrap with roasted corn salad, or tropical wild rice with coconut.
Chow Down is a popular Surfside eatery that just opened a new outpost on Alton Road. I can't wait to try it—if you have already, let us know what you liked.
Peace A' Cake sells delicacies crafted by a holistic health coach from spelt flour, applesauce, coconut palm nectar, dark chocolate chips, and raw almonds, and their treats are sold at local health marts and juice cafés.
A lodging tip: For peaceful sleep away from the South Beach beat, the appealing, clean, and recently renovated Miami Marriott Biscayne Bay is just across the beautiful Venetian Causeway. This hotel has a free shuttle to South Beach, and it's an easy bike ride too.
All images: ©Robin Tierney