Columbus, Ohio: Thankful for Humane Yet Decadent Food
I found an intersection of eco-consciousness, compassion, and decadence. It's just north of Ohio State University in Columbus, a city that I consider to be highly evolved on the food front.
I began my visit to Columbus with a stop at the new nature center in Scioto Audubon Metro Park, a serene, bird-filled redevelopment of "brownfield" (abandoned industrial land). Then I biked along the river on the Scioto greenway trail and the southern portion of the equally well-paved 14-mile Olentangy Trail. That afternoon, I continued north on the Olentangy Trail to Worthington Hills, passing nature lovers and couples jogging with their dogs.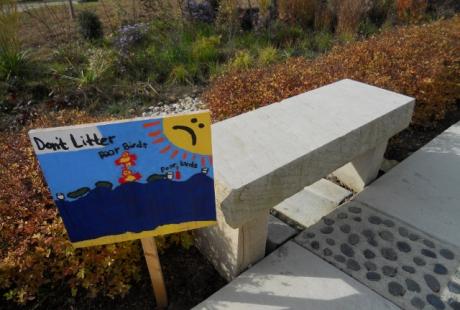 On High Street in the city's Clintonville neighborhood, the Rad Dog! Gourmet Meatless Hot Dogs cart lures lunch and dinner crowds. Thank you, cart-tender Michael, for the original Rad Dog! (a Tofurky beer brat topped with sauerkraut on a locally baked whole-wheat bun).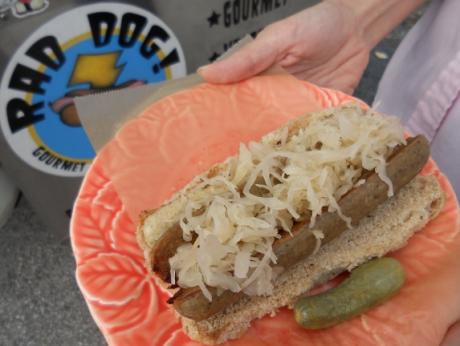 Nearby is the all-vegan Pattycake Bakery. Surrounded by Pattycake temptations, baker and owner Jennie Scheinbach and I talked about the healthful benefits of compassionate, cruelty-free food and about "communitarians." That's how Jennie described the social entrepreneurs of Columbus—people committed not only to excellent eats but also to eco-friendly practices and supporting area food growers and artisans.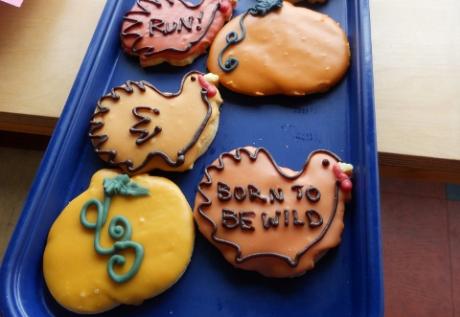 Jennie handed me an oatmeal cookie wrapped in Modern Baking magazine's Package of the Year. Pattycake's 100 percent biodegradable packaging integrates locally sourced eco-friendly Terraphane compostable bags, recycled-paper labels, and MagiGlue, which uses no animal or chemical products.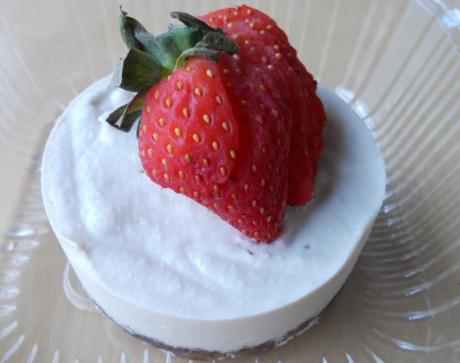 What about the vegan goods? Some of my photos here show a few of the confections, which used minimally refined sugars, flax, hemp, spelt, and dates and tasted even more phenomenal than they looked: a perfect dark-chocolate cupcake, several varieties of chocolate-chip cookies, and a live "cheese" cake with a tantalizing tart accent. Seasonals included a pumpkin whoopie pie and animal-shaped cookies iced with messages, such as "Born to Be Wild."
For dinner, I headed down the street to Alana's Food & Wine. It's not all vegetarian but could be, given the vegan dishes crafted by chef Alana Shock. She shared the credit with central Ohio farmers, telling me the origins of the squash, cilantro, pumpkins, fennel, cauliflower, baby limas, tomatoes, and other foods flavoring her korma, salads, and gingered carrot and apple with apple-pecan relish soup. Soft lighting in the art-filled room didn't permit photos, but Alana's creations really must be tasted to be believed.
For more casual fare, great beer, and cool tunes, I ventured south of downtown Columbus to Hal & Al's. There, I found all-vegan pub grub as well as tasty sushi with green beans and some local favorites, such as fried avocados. I'm not a fried-food fan, but I recommend the veggie-enriched dipping sauces. I hear that the dairy-free pizzas are tasty and that the IPA and Bourbon Barrel Stout from Neil House, a local brewery, are superb.
The food scene is also exploding in the Short North district, so I'll cover that in a future article. If you're visiting before then, check out Vegan Columbus.
All images ©Robin Tierney.