Make the Holidays Safer for Your Animals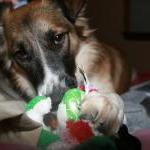 As we all know, this is a wonderful time of year during which we all give thanks for our blessings and spend time with our friends and family. During all the fun and excitement, it's critical to have the health and safety of your animal uppermost in your mind.
Many people travel during the holidays, and that means your animal companions are either traveling with you or being cared for by a neighbor, friend, or family member. (Here are some great tips on taking a road trip with your dog and finding a sitter for your animals while you are gone.) If you're traveling, it's important to plan ahead for any possible emergencies.
Here is a situation that we see frequently at this time of year at our emergency veterinary hospital: A caretaker brings in a sick cat or dog who has been vomiting all night. The animal has collapsed and needs to be hospitalized, but the caretaker is unable or unwilling to authorize financial responsibility, and the guardians cannot be reached (they're out of the country or on a cruise). Unfortunately, some veterinarians will not proceed with any medical intervention unless written authorization to treat your animal in case of an emergency and financial information is provided by the guardian ahead of time. However, for life-threatening emergencies, vets usually waive this. These situations are frustrating for all parties, and in the end, it's the animal who suffers.
To avoid this situation, please take the following precautions:
If you travel with your animal, take all the medications that he or she may need, and take some documentation of any health conditions your dog or cat may have. Don't assume that the emergency hospital will be able to reach your vet, as regular vet's offices often close before, during, and after holidays. The more you or a caretaker can inform an out-of-town vet about the health of your loved one, the better his or her medical care will be.
Ensure that anyone you leave your animal companion with is prepared and willing to take temporary financial responsibility for any medical care that may be required while you are gone. You can pay the person back when you return. Another alternative is for you to leave a credit card or credit card number and expiration date with your caretaker or at the vet's office. Also, don't forget to leave a written note authorizing your veterinarian to treat your animal as needed, in case of an emergency.
Ensure that your caretaker has the ability to contact you: Cell phone numbers and e-mail addresses are a must. Many caretakers with animal emergencies are reluctant to call guardians when out of the country because they are concerned about waking them up. Please be sure that your caretaker understands that it is fine to call you anytime if it concerns the health and safety of your animal.
The day after Thanksgiving, known as "Black Friday" to most shoppers, is unfortunately known as "Barf Friday" to most vets. My lobby is always filled with vomiting dogs whose guardians will (reluctantly) confess to having fed their dogs turkey skin, turkey bones, and other assorted holiday leftovers. Pancreatitis is a serious illness with a high incidence around the holidays. There are safer ways to give thanks to a dog who loves you unconditionally-such as giving him or her a new chew toy, a new dog bed, or an extra trip to the dog park-than by feeding him or her dangerous foods.
Chocolate exposure in dogs is very high in the next month (read more about this in a post that I did on the topic of Halloween and animal safety). Take care not to leave any chocolate within reach of your dog … not even for a second! Cats seem to love playing with the ribbon and strings that we throw on the floor when we unwrap our presents. Mischievous cats often eat these and require expensive, unnecessary surgery to remove them when they get stuck in kitty's intestines. Please be aware of this and discard string and ribbons with care.
Here's wishing you and your animals a safe and happy holiday season!