Prime Recipes: Vegan Mashed Potatoes With Brown Gravy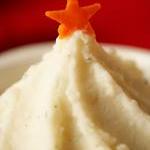 What better way to start the holidays than with a simple and delicious recipe from our sister site, PETA Living. You can show your friends how familiar and yummy vegan comfort food can be with this very tasty recipe for mashed potatoes with a flavorful brown gravy.
For the mashed potatoes, you'll need:
5 large potatoes, diced
1 cup liquid nondairy creamer (try Silk brand)
2 Tbsp. margarine
1/4 cup fresh chives, chopped
Salt and pepper, to taste
Place the potatoes in a large pot and cover with water. Bring to a boil and cook for 20 minutes.
Drain the potatoes, place in a bowl with the remaining ingredients, and mix until smooth.
Serve hot.
Makes 4 to 5 servings
And now for the gravy!
2 Tbsp. (1/4 stick) margarine
1 medium-sized onion, diced
2 Tbsp. unbleached all-purpose flour
1 tsp. garlic salt
2 Tbsp. cornstarch
1 1/2 cups water or vegetable broth
1 tsp. yeast extract
1-2 Tbsp. soy sauce or tamari
Pepper, to taste
Heat the margarine in a medium saucepan over medium heat.
Sauté the onion for a few minutes, then add the flour and garlic salt and sauté for another 8 to 9 minutes.
Dissolve the cornstarch in the water or broth.
Gradually add the cornstarch mixture to the onion mixture, bring to a boil, then simmer for 10 minutes.
Strain the gravy into a separate saucepan and add the yeast extract, soy sauce or tamari, and pepper. Simmer for another minute or 2, stirring constantly. Keep warm.
Preparation time: 45 minutes
Baking time: 40 minutes
Makes 6 servings
We hope you enjoy this delicious dish. Do you have a favorite recipe for vegan mashed potatoes?