In Search of Miami Sazón (Part 1)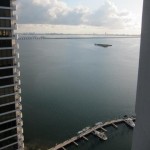 Miami's hotter than ever, whether your idea of fun is lolling on a beach or a boat; bicycling around vibrant neighborhoods from the design district to MiMo (Miami's modern architecture district); taking the free Metromover monorail to museums, markets, or free yoga in Bayfront Park; playing with your dog around tiled sculptures at Margaret Pace Park; or shakin' it on the dance floor. This sexy city gives visitors plenty of healthy, cruelty-free, and tantalizing places to visit.
During recent visits, I found plenty of sazón—or sassy seasoning—everywhere from dining patios to outdoor yoga sessions. In this post, I'll tell you about some of my fresh finds in this beautiful Florida city.
Choices Café
This new vegan restaurant in the Brickell district serves a seductive range of food, including vegan pizza, vegan sushi, and a wrap filled with quinoa, black beans, plantains, and vegan chorizo. Miamians, try it and tell us about it!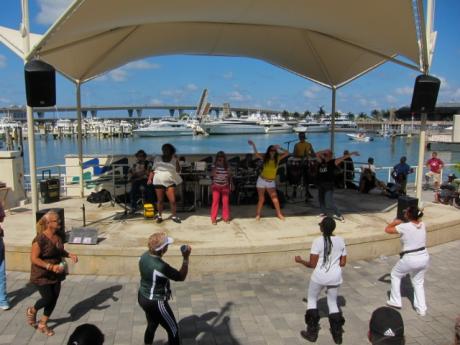 Garden of Eatin'
This is a great place to find humble, inexpensive, and delicious food in Little Haiti. In the Rastafarian "Ital" life-energy tradition, the chef creates globally inspired vegetable, couscous, and faux-meat dishes that have won over mock-haters and meat-eaters alike.
The Honey Tree
This Morningside market and deli serves fresh vegan dishes weekdays starting at noon until the ingredients run out, thus explaining the long lines. The flavors span Asian, Indian, Greek, Mexican, and Caribbean cuisines and include curried lentils, roasted veggies, vegan desserts, and more.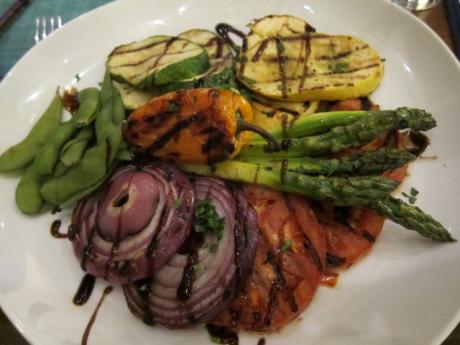 Catch Grill + Bar
Just north of the lovely Venetian Causeway and overlooking the Port of Miami is the recently renovated Miami Marriott Biscayne Bay. This cool and centrally located—yet affordable—place to stay also houses a sleekly designed indoor-and-outdoor bayfront restaurant, Catch Grill + Bar, which touts sustainably sourced fare. The chef can veganize some dishes or whip up a seasonal veggie platter. You can also enjoy tapas with plant-based teasers such as zesty hummus, eggplant-rich baba ghanoush, edamame, and lightly fried plantains with yummy guacamole. Be sure to try a handcrafted mocktail too. I refreshed with pineapple juice splashed with agave and pink peppercorns.
Mac'n Food Truck
Miami has a new food truck—and it's vegan. Feel like having mac 'n' cheese with portobello mushrooms and plant-based mozzarella? Fresh-cut sweet potato fries? Fried green tomatoes? Just-picked watermelon with fresh basil and sea salt? Then just click the link for the day's location.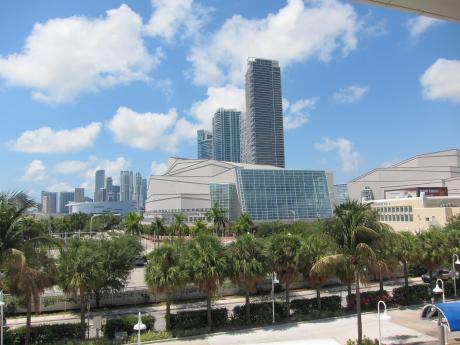 Lifefood Gourmet
This Coral Gables café focuses on raw vegan food, including Brazil nut–based "wild milk," goji shakes, burritos with pumpkin nut meat, veggie-flaxseed pizza, and lasagne layered with vegan Alfredo macadamia pine nut sauce, spinach, and Irish moss-erella. Seeking chlorella, spirulina, and blue-green algae? Craving mamey or carob? Lifefood Gourmet has it. Its mission statement outlines touches on cellular nourishment and rejuvenation, tapping self-healing powers, and spreading "a sense of well-being, sanity and happiness."
La Vie En Raw
Run by a vibrant integrative nutritionist and certified raw chef, this totally vegan, mostly organic café in Coral Gables starts working its magic with the revitalizing local art gracing the walls. The menu changes with the seasons, but if you can, pounce on the Beet "Raw-violi," ground walnut-and-carrot faux tuna with creamy avocado, any sea vegetable or nut-cheese dish … and the chocolate pie.
Metro Organic Bistro
This hip haven in historic MiMo serves several vegan entrées, such as the Green Burger and crispy chickpea cakes. You can even make a meal of fresh-off-the-farm sides such as grilled fennel.
Sweat Records
At this all-vegan coffeehouse in Little Haiti, great tunes pair well with Unicorn Love Bomb espresso, Dirty South Chai, and mouth-tingling cupcakes such as coconut with lemon icing. It also serves spinach and sun-dried tomato vegan empanadas as well as curry ones.
Coconut Grove Saturday Organic Market
Eco-conscious plant-based diners rejoice! In addition to just-picked veggies, a raw deli, raw tostadas, and raw pizzas, you can indulge in raw tiramisu and raw pies with moist crusts of dates, nuts, and spices.
In my next post, we'll visit South Beach!
Have some Miami favorites? Share them in the comments section below.
All images ©Robin Tierney.