Getting Into The Loop in St. Louis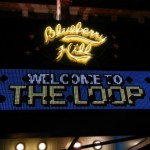 When a neighborhood gets a vegan restaurant and a bike path, it has truly arrived. That's what I thought while bicycling around The Loop, the nickname for the six-block (and expanding) Delmar Arts and Entertainment District, west of downtown St. Louis, Missouri.
Fortunately, timing allowed me to end my first day of sightseeing on wheels with "all-vegan buffet night" at Gokul, a vegetarian restaurant that opened recently on The Loop's east end, close to the MetroLink light rail stop. MetroLink zips from places in downtown to the airport in minutes and even allows bikes on board the trains.
The northern Indian and Gujarati fare at Gokul (named for Krishna's birthplace) includes aloo baingan, vegetable pakora, daal, and dairy-free muzzafir noodles. The dishes are prepared with a light touch—minus heavy oil or overwhelming spices—so that you can taste the eggplant, sweet potatoes, peas, and other whole foods. Healthy, delectable food is the mission, but owner Jim Sandhe says that the dessert-like cream of wheat dish might be the most popular: "Customers call ahead to make sure we're serving it." The all-vegan dinner buffet is served between 5:30 and 9 p.m. on the second and fourth Mondays of the month at the Delmar Loop location and on the first and third Mondays at Gokul's original location in the suburbs. Even if you miss this bargain buffet, both locations serve an abundant variety of vegan dishes throughout the week.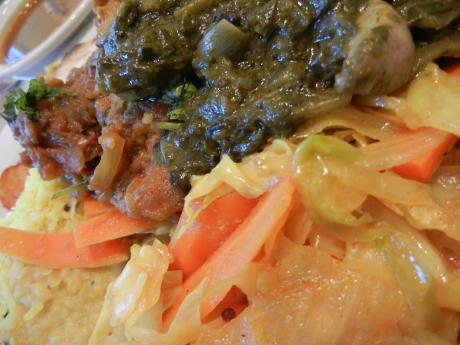 In the mood for pizza? You can enjoy vegan pies inside or at a sidewalk table at Pi Pizzeria, an independently owned area chain with a commitment to eco-sustainability. The flavorful pies span from deep dish to St. Louis traditional thin crust and can be made with both Daiya cheese and Match faux-meats. They have excellent salads too.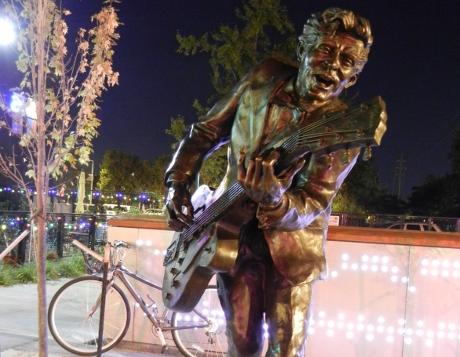 This past summer in The Loop, the new Centennial Greenway bikeway trailhead and mini-plaza—featuring a statue of rock 'n' roller Chuck Berry—was dedicated. The Great Rivers Greenway nonprofit is in the process of building 600 miles of bike paths—very impressive! Even now, it's easy to bike to St. Louis's Forest Park (which is larger than Manhattan's Central Park) and around the beautiful old buildings of Washington University, whose campus eateries offer many vegan choices in recognition of the health benefits and ecological value of a compassionate diet.
In the 1970s, long before "sustainable community" or "new urbanism" became catchphrases, Joe Edwards was working to turn the blighted Delmar area of derelict buildings into a safe and happy place to walk, bike, work, visit, play, and thrive. And so The Loop was born.
"People decided 'Let's save the neighborhood' instead of waiting for some other entity to take action," explained Edwards. He and his then-fiancée opened the now-iconic nightclub, Blueberry Hill, in 1972 in an abandoned warehouse. This would become The Loop's anchor—and a monthly concert venue for Chuck Berry. Blueberry Hill's menu has always offered many vegetarian dishes, including some that can be made vegan. (Note: The veggie burger contains egg whites.) The nightclub also serves locally brewed beers, including award-winners from Schlafly. Schlafly brews are produced without animal products, and its brewery offers free tours. Try the pumpkin ale.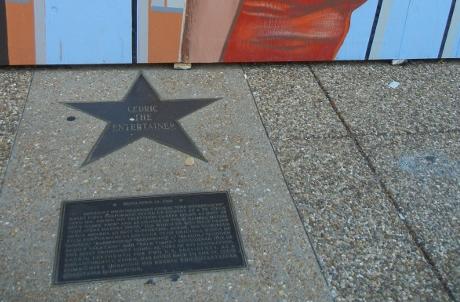 After Blueberry Hill, Edwards moved on to other Delmar Loop projects, such as renovating the handsome Tivoli Theatre, which had fallen into disrepair during the Great Depression. He learned the nuances of restoration as well as the importance of seemingly little things, such as fixing potholes, installing trash cans, and dressing up sidewalks with flower pots and functional art—seen now in fancifully sculpted parking lot poles and bike racks. Next came the Pageant concert hall, the Pin-Up Bowl bowling center and martini lounge, and the St. Louis Walk of Fame. The Delmar sidewalks are embedded with brass-star plaques dedicated to St. Louis's musicians, film stars, authors, and lower-profile notables. The newest Loop project, slated to launch in 2013, is a vintage-era, fixed-track trolley that will run 2.2 miles to Forest Park.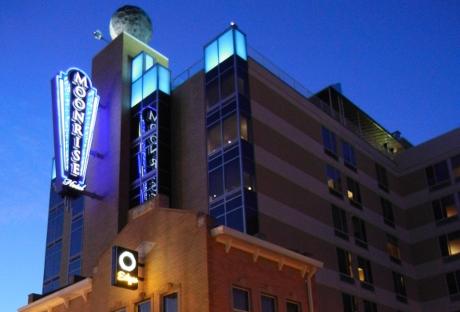 Other new additions to The Loop include the RAC Regional Arts Commission gallery, which currently displays a textile show featuring works by C. Alana Tibbets, whose smart, suit-wearing rabbits and fellow fauna perch on stacks of books. And to get city visitors into The Loop, Edwards built the Moonrise Hotel, a remarkably successful blend of super-cool design, comfort, and a friendly atmosphere. Edwards shares his outer-space–themed toys and memorabilia in little nooks around the hotel. A large replica of the moon spins through its phases atop the building, right above the Rooftop Terrace lounge, where a new 60-foot solar panel supplies power for the lounge. There are vegetarian options in the lounge and in the first-floor restaurant, Eclipse.
Planning a visit? Check out the "Explore St. Louis" website.  We have plenty more to report about the vegan-friendly St. Louis dining scene. Stayed tuned!
All images: ©2011 Robin Tierney