Have Your Cake and Vegan Too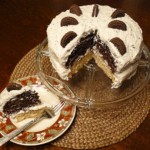 When it comes to vegan baking cookbooks, this one takes the cake! Kris Holechek's recent book Have Your Cake and Vegan Too is a delightful and taste-tempting collection of 50 vegan cake recipes. The 147-page paperback features full-page color photos of each cake creation.
The book's introduction is a fact-filled guide on vegan baking ingredients, tips, tools, and troubleshooting. For example, here's one practical tip that makes removing layer cakes from their baking pans a cinch: line the bottom of the pan with parchment paper! I do this by outlining the pan in pencil on the paper, cutting the paper, and placing it as a liner in the bottom of the pan.
The recipes are arranged in chapters by category, which run the gamut from "Basic Cakes" to "No-Bake Cakes," and there are several gluten-free options. The book also features chapters entitled "Breakfast and Snack Cakes," "Simple Layer Cakes," "Multilayer Cakes," and "Think Outside the Round Cakes." The final chapter, "Cake Accoutrements," includes 17 frosting and glazing recipes. All the recipes in the book are also ranked by difficulty level, on a scale of 1 to 5.
The joy of writing this review was being "forced" to try several recipes. I can only hope that you enjoy the photos as much as I enjoyed the cakes!
One of first recipes that I tried was the Snickerdoodle Cake, and it lived up to its cookie namesake with its rich cinnamon flavor.
From the snack cake offerings, I made the Chocolate Crumb Cake. It's an intense chocolate cake with a crunchy crumb topping.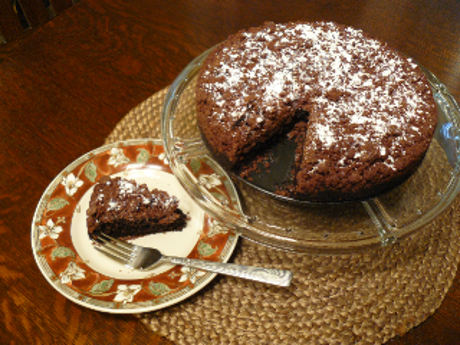 The Choconut Cream Cake features a layer of coconut cream filling and finely ground coconut in the cake batter.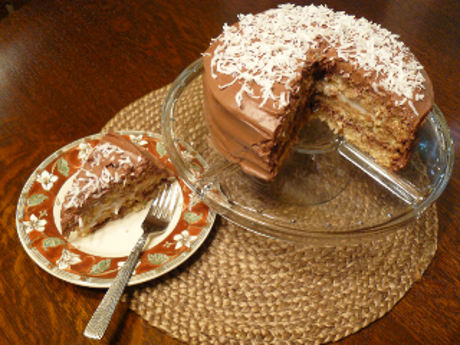 Looking for a decadent chocolate cake? Dad Is Great Chocolate Cake will fill the bill.
Perhaps Bubbie's Chubby-Tuxedo Cake provided the most impressive presentation. And it tasted every bit as good as it looked!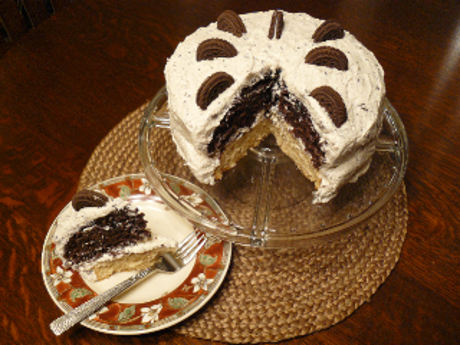 The good news for vegans is that we can have our cake and eat it too. And thanks to Kris Holechek's book, you'll have great recipes to Have Your Cake and Vegan Too! Purchase your copy and support PETA at the same time by making your purchase through the Barnes & Noble link at the PETA Mall.