Turning a Steakhouse Vegan for a Day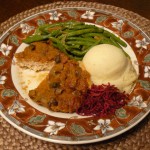 Yes, a steakhouse—and not just any steakhouse, but a stockyard steakhouse—went vegan for a day. That's proof that PETA and other animal rights groups not only change the character of the location where they hold an event but also change minds and practices.
In its heyday, the Lancaster Stockyards in Pennsylvania was the largest facility of its kind east of Chicago. An inn was located at the edge of the vast complex, and over the years, it evolved into the Stockyard Inn, a locally prominent steakhouse owned and operated by the same family since 1952. In 1986, the first animal rescued by Farm Sanctuary, a farm animal advocacy and protection organization, was a sheep—later named Hilda—who was found barely alive on a pile of dead animals at the stockyards.
Twenty-five years later, I volunteered to help organize an event to honor Hilda's legacy and mark Farm Sanctuary's founding. What better place to hold this event than at the Stockyard Inn? Just one hitch: This needed to be an all-vegan event at a steakhouse. Because I live in Lancaster, I was recruited to work with the restaurant as the local vegan facilitator.
The first surprise was how willing the owners were to work with me. They were comfortable with the idea of veganizing their restaurant for a day and assured me that the food would be both vegan and exceptionally good. They enthusiastically embraced the challenge, wanting to prove that they could accommodate any dietary requirements.
For the main entrée, the kitchen staff experimented with several premium meat alternatives. It was decided that the vegan ground chicken from MATCH Foods would be perfect for creating a vegan version of one of the Stockyard Inn's traditional house favorites, Chicken Marsala.

The event was held on a Monday, when the restaurant is normally closed, so it was easy to have the entire establishment go vegan. Every ingredient of each menu item was carefully scrutinized. The owners were amazed to discover that many of their cooking ingredients were already vegan and that most of those that weren't were easily veganized. For example, the cooks could use soy milk and vegan butter to make garlic mashed potatoes. The owners also discovered that their distributors carried vegan products such as soy milk.
Sometimes the devil—along with wonderful educational opportunities—was in the details. The kitchen staff found that they could use organic sugar and nondairy creamer for coffee, nix the honey-wheat rolls, and place soy-based candles on the tables.
For dessert, the venerable Vegan Treats supplied several large chocolate layer cakes that were beautifully decorated.
A packed house of 100 diners enjoyed the vegan celebration, which received positive press coverage both locally and regionally. Among the highlights of the evening: The owners announced that they would permanently add a vegan entrée to their menu, and a painting of Hilda was auctioned off. Twenty-five years ago, this would have been an auction of Hilda, but now it was an auction for Hilda!
Have you helped to add vegetarian options at a restaurant? Tell us about it!