A Taste of the PETA Pack Team!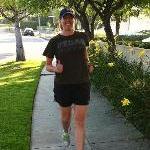 The PETA Pack team launched nationally this year, and there are more than 580 runners signed up across the U.S.—and even outside the U.S.—to run a race for animals! We have hundreds of PETA supporters around the world on the team, and many PETA employees have committed to lacing up their shoes after a long day of working for animals in order to run for animals. Here are a few of them. Take a look at their stories, visit their fundraising pages, and leave a message (or even a donation) to show your support!
Tracy Reiman
Tracy (pictured above) is eager to make her next triathlon her most meaningful and memorable one yet! As PETA's executive vice president, Tracy has made helping animals her full-time job, and triathlons are how she plays. Tracy started training for her first triathlon when she moved to California last year to help open the new PETA office in Los Angeles. At first, she struggled to swim one lap in a pool, but today she can swim a mile without stopping! As Tracy said, "It's always been important to me to stay in good shape to show how healthy vegans can be, and at 43, I'd gotten bored just running or going to the gym. Triathlons are fun and challenging, and they keep me motivated." Tracy is combining two of her greatest passions this year by competing as a PETA Pack runner in the Los Angeles Triathlon, where she'll swim 0.9 miles, bike 24 miles, and run 6.2 miles—all to raise money for PETA's Investigations & Rescue Fund. Good luck, Tracy!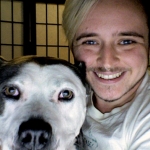 Alex Thornton is the captive wildlife specialist at PETA. He has joined the pack this year to run a 10K race for animals—specifically for elephants who are kept in chains and who never have control over their own lives. Elephants in captivity are habitually abused. At an early age, they are torn away from their mothers and chained by all four legs. For the rest of their lives, they are beaten with sharp metal bullhooks, made to perform tricks that ravage their bodies, kept confined to cramped quarters where they are forced to stand amid their own feces. Not only is Alex running and raising money to help these animals, he is also the New York City team leader! Alex has organized meet-and-greet events, runs, and more. He is looking forward to inspiring the other New York runners to achieve great things for animals over the next three months.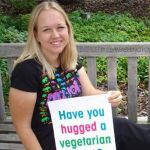 Katie Arth is one of the PETA Pack team leaders in Washington, D.C. Not long ago, it was a challenge for Katie to jog a mile. Today, she's preparing to run 10! Katie says, "I have never been able to commit to running when it was just for being healthier or for weight loss, but combining those benefits and promoting animal rights and PETA's work has helped me do just that. In a time where states are considering legislation to ban undercover investigations of animal abuse instead of making laws to prevent animal abuse, it is a time to speak out and pull out my running shoes." Amen!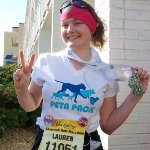 Lauren Stroyeck is running for a reason. Actually, she's running for many reasons. She's running because right now, there is a mink circling in a cage on a fur farm. Right now, there is a chained "backyard dog" sweltering in the heat or shivering in the cold. Right now, there is a hen on a factory farm in a wire crate the size of a filing cabinet who can't spread her wings. Right now, monkeys, dogs, rats, mice, and cats and being injected, tortured, implanted with devices, and kept in cages in laboratories for experiments. Instead of sitting on the couch eating (soy) ice cream this summer, Lauren will be running and fundraising to help put an end to this cruelty. Lauren is a campaign coordinator for PETA and is one of the three PETA Pack team leaders in Norfolk, Virginia – the home of PETA's headquarters.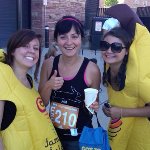 Lindsay Rajt is PETA's associate director of campaigns in Los Angeles. She spends her days organizing and leading demos and protests, speaking to the press, coming up with the most creative campaigns, and more! After her very busy days working for animals, no matter how tired she feels, she still makes time for her PETA Pack training runs. Lindsay hopes to raise $500 this year.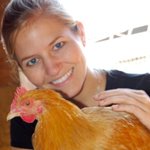 Michelle Cehn is leading the PETA Pack team this year. She says it has been exciting to watch the team grow from a local group to a nationwide and even international team of hundreds of runners. She is training with the San Francisco runners for the San Jose Rock & Roll Half Marathon. A vegetarian since age 8, a vegan since college, and a lifelong animal advocate, Michelle is thrilled to have this opportunity to take steps (literally) to help end animal abuse—and to help others to the same!
Inspired to join the PETA Pack team? It's not too late! You can register today at PETA.org/Run.
This post originally appeared on PETA.org.