Supporting Your Local Animal Shelter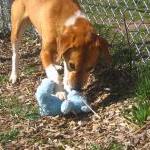 I firmly believe that in order to solve the animal overpopulation crisis, we need to support PETA's efforts to actively educate people about the need for spaying and neutering and back its work to stop breeders and puppy mills from bringing more dogs and cats into a world where there are already millions of animals who desperately need homes.
That said, I also think that one of the most important things that we can do as animal activists is to develop a relationship with and support our local animal shelters. Many of us are not in a situation that allows us to adopt more animals, but we can certainly help ensure that the animals at our local animal shelters receive the food, shelter, and care that they deserve.
I belong to a local group called Animal Advocates of the Inland Northwest, and together we volunteer at our local animal shelters. We donate food, litter, and toys; make a point to participate in their fundraising, adoption, and spay/neuter events; and help out by walking the dogs who are staying in the animal shelters. We religiously donate to their spay-and-neuter programs and work together as a group to speak out against cruelty to animals.
In turn, the animal shelter employees and volunteers started attending our meetings and vegan potlucks and became very interested in our cruelty-free recipes. Now they even offer vegan options at their fundraising banquets and include our vegan literature in the goody packs at their events!
I think that by working together, we can broaden the animal rights agenda and help to ensure that there is a safe and loving place in each and every community for animals who await their forever home. How are you working to stem the animal overpopulation crisis in your own community?