Help Animals While You Clean Out Your House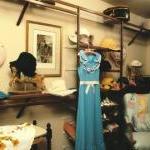 This past weekend, I spent all Saturday sifting through drawers, closets, and my basement to clear out everything I wasn't planning to use again. With the visit of summer guests fast approaching, what better time than now to start cleaning out my house? I generated two hefty bags of trash and recycling. I also pulled out old books, cell phones, computers, clothes, jewelry, artwork, and other valuables that I no longer wanted cluttering my space—but that I also didn't want to throw away. Normally, I would donate these things to Goodwill or a local thrift store, but this year, I am giving them to a cause very close to my heart—I'm donating them to PETA.
I'm sure many of us have used, or are at least familiar with, eBay,  the online site where you can sell or auction off all kinds of goods and collectible items. In an effort to give back to charities, this popular site started its Giving Works program, which allows an eBay seller to donate a percentage of their auction earnings to an organization like PETA.
Here's how I clean out my house for animals: When I list an item for auction on eBay, I donate between 10 and 100 percent of my earnings to PETA. The item is then marked with a Giving Works icon indicating that proceeds from your sale will be going to a good cause. Even better, when I donate 100 percent of my auction's earnings to PETA, eBay will waive all selling fees, making it completely free for me to sell my cast-offs in behalf of animals. After the item is sold, the donation will be sent to PETA, and I'll receive a tax receipt—it's as simple as that!
So after cleaning my house on Saturday, I took pictures of the items I chose to sell, posted them on eBay, and selected a percentage to donate to PETA. I contentedly wrapped up my cleaning later that night with a newly clutter-free house and pride that some of that clutter would be helping animals who may not be lucky enough to have a home at all.
How are you supporting the causes you hold dear?