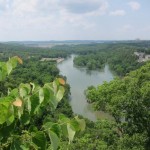 Live-theater and country music fans, I come with good news: Branson is going vegan-friendly! Yes, venues in the Missouri-based entertainment capital are adding vegetarian and vegan options.
For me, an avid cyclist, Branson's main attractions are outdoors: rugged Ozark bluffs, rippling lakes, and emerald valleys. After getting a rental bike and route tips from Downhill Bikes,  I …
Continue reading "What's a Vegan to Do in Branson? Plenty"