Prime Veggies: Asparagus!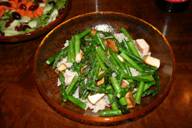 Asparagus is a root crown, which, when planted in your garden, comes up year after year, just like a bulb. Every year yields more asparagus, because as the crowns develop and grow, they split and branch out. The 10 crowns you plant now could be 20 plants in a few years! We planted asparagus in our garden 13 years ago. Needless to say, we always have an abundance of asparagus in the spring.
Did you know that many dogs love fresh, raw asparagus? I always toss some pieces to my dogs when I'm preparing asparagus for dinner, and they gobble it down, like the good little vegan dogs they are! I just don't understand why people think dogs won't thrive on a vegan diet; my dogs are crazy about vegetables, and they are perfectly healthy.
Our favorite way to cook asparagus is to roast it in the oven. It's easy, and the roasting really brings out the flavor. Take 1 or 2 pounds of asparagus, cut it into short strips, toss with a little olive oil, add salt and pepper, lay out on a baking sheet, and bake at 450°F for about 10 minutes. Then just fill a bowl with some cooked brown rice, add some chunks of baked tofu, and top with the roasted asparagus, and dinner is served.
I also make an asparagus/potato/avocado soup that is really delicious and simple. Sauté one-half of a chopped onion and some fresh garlic in a little olive oil for a few minutes. Add 4 cups of water or vegetable broth, 1 1/2 pounds of chopped asparagus, 1 1/2 pounds of peeled and chopped Yukon gold potatoes (about four or five potatoes), and some salt, pepper, and oregano. Bring to a boil, then turn down and simmer for 25 minutes. Let cool for just a bit, then put the cooked soup into your food processor along with my secret ingredient—one or two ripe avocados: Scoop out the avocado from their skins, put into the food processor with the soup, and process until smooth. The avocado adds a creamy richness to an otherwise light soup.
Make sure you check out VegCooking.com for other great recipes for asparagus.
Anyone have a great asparagus recipe to share?