The PETA Pack: For Animals, for Fitness, and for Fun!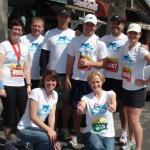 It's time once again for team training with the PETA Pack! Registration is now open for the 2011 PETA Pack, which is possibly the best way ever invented to get in shape and help animals at the same time.
The PETA Pack is a nationwide group of compassionate people who will team-train to run a half-marathon (13.1 miles) or 5K (3.1 miles) race in October. Each participant will raise money to help PETA with its lifesaving work for animals. This year, the PETA Pack team is going to be bigger and better than ever before. We've got a brand-new website, a Facebook page, and dozens of races to choose from.  Even more exciting, Brendan Brazier, a renowned professional triathlete, author, and speaker, has signed on to advise, motivate, and inspire our fabulous PETA Pack team's efforts this year.
I ran my first-ever half marathon with the PETA Pack in 2009. I had so much fun that I decided to keep training and have even run eight more races. Needless to say, I can't wait to run with the PETA Pack again this year.
I know what you're thinking: "I'll never be able to run that far! The last time I ran was to catch a flight in Chicago O'Hare airport, and it wasn't pretty!"
Lack of prior running experience is no problem for the PETA Pack—we have a great training program for beginners that can get any couch potato across the finish line. When I started running with the team, I thought a 3-mile run was tough, and others on the team weren't even runners at all! But in just three months, the PETA Pack team leaders had us all trained and eager to run on race day. You can run the entire race or walk part of the way, and the team will be there to cheer for you at the end!
If you've ever dreamed of participating in a race or doing something great for your health, the PETA Pack can make it happen. I made new friends in the weekly team training runs, and having such a supportive group to train with kept me going when I was feeling tired. I ended up in better shape than I've been in the last 20 years—I was even able to keep up with the 20-something runners during the workouts. And best of all, I was proud of how much we did to help animals.
In the past two years, the PETA Pack team has raised more than $100,000 for animals, and we expect to double that figure this year.
Training begins on July 1—a perfect way to get out and enjoy the summer weather. Register now to be part of the PETA Pack and help animals!